Published Mar 24. 2013 - 5 years ago
Updated or edited Nov 17. 2015
That Festival Feeling
Every second year a few thousand fly-fishers and fly-tyers from Denmark and Germany gather ind the southern part of Denmark for the biennial Fly Festival
This past weekend I went to the Danish Fly Festival as I have done for the last many years. I have had several roles during the years: I have been helping with the logistics and been part of the crew, I have tied, I have been in commercial booths, but the last few times I have just been a spectator. Same thing this year.
After a very nice evening together with my good friends Ken and Henning, we left Ken's house on Fyn and drove on to Kolding, the town where the festival has taken place the last many years.
It's a classical style fly tying show: tying demos, casting pools, presentations, booths, sales and so on. It takes place in a couple of small buildings used for indoors sports. Not huge but big enough to have room for an indoors casting pool.
It's no problem spending a day there. Not because there's so much to see. There's a lot, but the exhibition and booths can be covered in a hour or two.
But that's not going to happen, not for me at least, because for every ten steps I take - or rather every ten revolutions of my wheelchair wheels - I stop to talk to someone. Old friends and long time acquaintances as well as people I have never met or talked to before. I recognize people, people recognize me, friends introduce new faces and people just start chatting.
It's the main reason I go. Sure it's nice to browse some booths, try some rods and buy some fly tying, but meeting an talking to Jan, Kim, Hans, Herman, Martin, Anders, Jerk, Jørn, Kern, Nils, Morten, Wolfgang, Jelle, Ole, Morten, Niels, Søren, Henrik, Peter, Gordon, and about twice as many more whose names evade me right now, is the main reason for going for me and the big thing that I bring home from these events.
As you can read, this was no different. Sure I did buy a bit and sure I did look at a reel or two, but the people is what I come for, and I got want I came for.
Even though I personally could do without booths, casting pools and slide shows, the show is still a fine arrangement as it is and it does draw lots of people from near and far.
I'm already looking forward to the next one.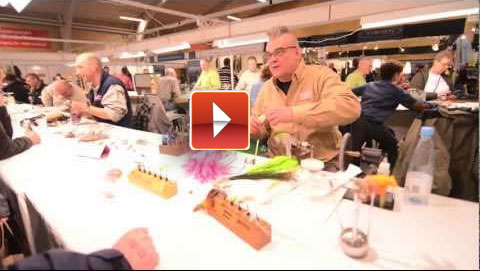 Small video from the Festival
Since you got this far …
… I have a small favor to ask.
Long story short
Support the Global FlyFisher through Patreon or Ko-fi. Both offer PayPal payments.
Long story longer
The Global FlyFisher has been online since the mid-90's and has been free to access for everybody since day one – and will stay free for as long as I run it.
But that doesn't mean that it's free to run.
It costs money to drive a large site like this.
See more details about what you can do to help in this blog post.