Published Aug 1. 1999 - 18 years ago
Updated or edited Nov 26. 2016
A Novice Graylingfishers Abstract 1999
For the last last three years, some of my friends and I have been to the southern central part of Sweden in the Malung-area in the pursuit of grayling and trout.
For the last three years, some of my friends and I have been to the southern central part of Sweden in the Malung-area. Each year we caught a few grayling, but they were quite small, about 20-30 centimeters. We blamed the high temperature, the high water, the low water, the flies everything... and at last, ourselves, but this year everything seemed to come together, at least in one of the waters.
First we fished the smaller side streams of Og-strömmen, which held a lot of smaller trout. They were fun to catch because of the fast current combined with the high concentration of fish, which demanded a very precise cast in their small window before they rose to the surface. Fishing these 2-6 meter wide whitewater, was great sport on light gear. We heard stories about bigger fish, the biggest was said to be about 4 kilos, which I would consider to be a very large trout for such a small stream.
Last year I fished the very same stream in August, and I caught a few. They were so fat on first sight, but then I realized, that they were just about to spawn, even though they were only 20-25 cm long. Therefore a 4 kilo trout is definitely not an everyday catch.
In early 1999, the local fishing-guide has taken the initiative to make the streams become even better. That means, that the fish has to become bigger. The minimum length for a fish, which might be going to the dinner table is 35 cm. Seven more or less skilled flyfishers fished the streams in the whitewater, the deep water, the shallow water, the calm water 24 hours a day for three days straight. Result - no fish even close to 35 cm
So... a bit disillusioned the chub became our new target. They produced great fun and action in the faster water. They were often found on the limit between calm water (side pools) and the whitewater. I had two strikes on my flies, but close doesn't cut it!
Some of my friends did. They fished chubs with a - for me at least - new method. They cast directly downstream, pulled of a lot of line, equaling the distance to the side pool. Then they retrieved in small pulls, 10 centimeters each time. A good method when using a Goldhead Red Tag or the local favorite: Hans van Klinken Lead Head.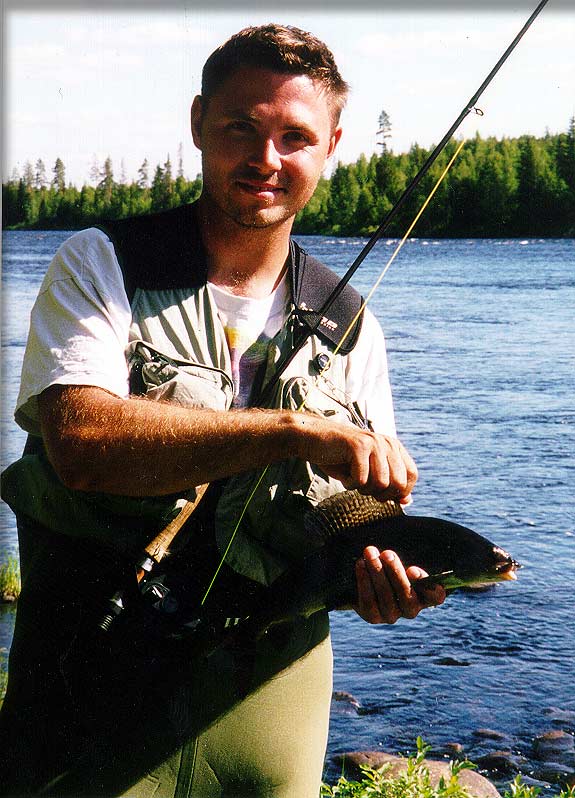 The author with yet another Malungen grayling in the 1½ lb. class.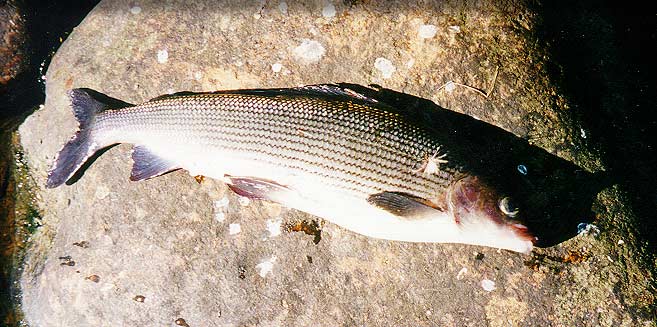 A grayling on its second last resting place, a stone - the last one will be the frying pan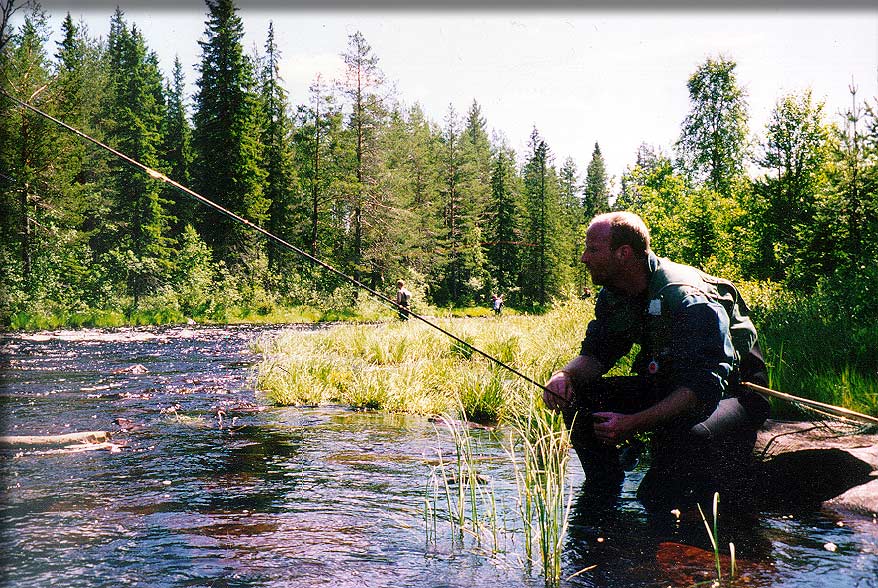 The author's fishing friend Morten looking out over the placid Malungen, while other fishers are actively seeking grayling in the river behind him.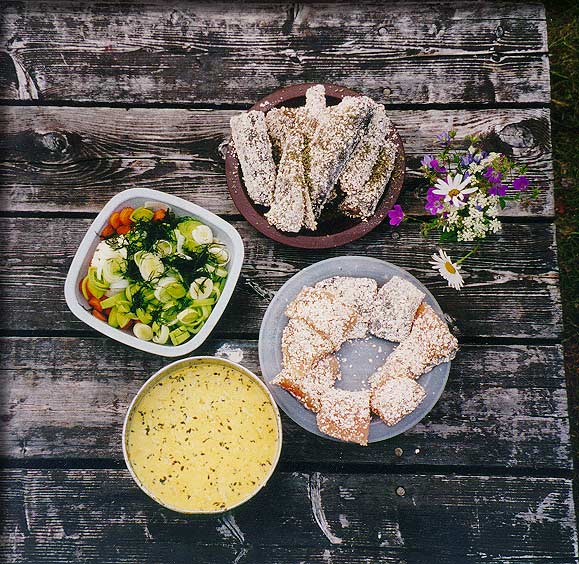 Grayling ready for the pan rolled in crushed oat and garnished with vegetables and a mild curry/cream sauce.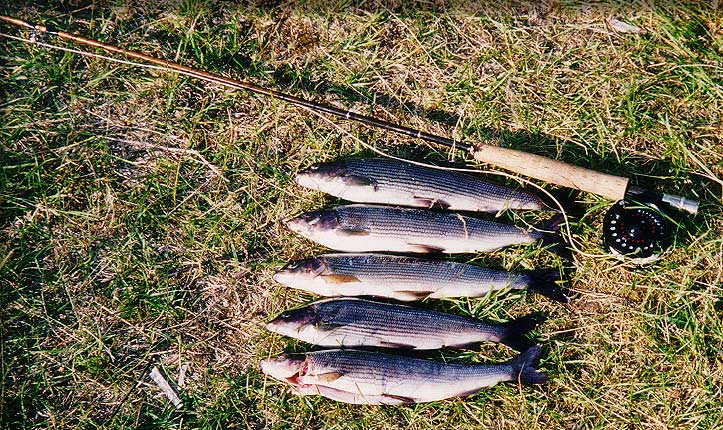 The fish are plenty and the staff is hungry.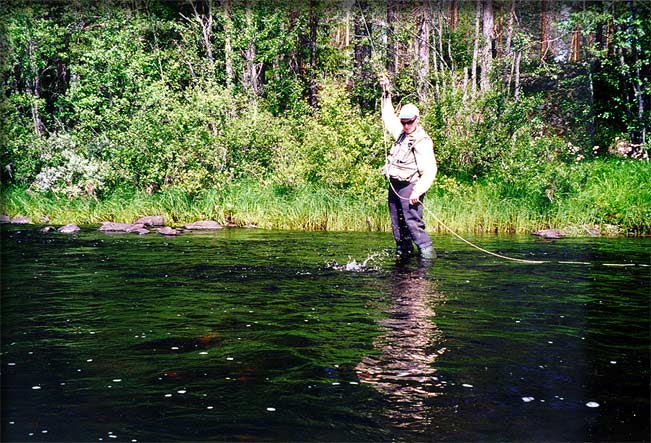 The final phase of yet another a grayling landing.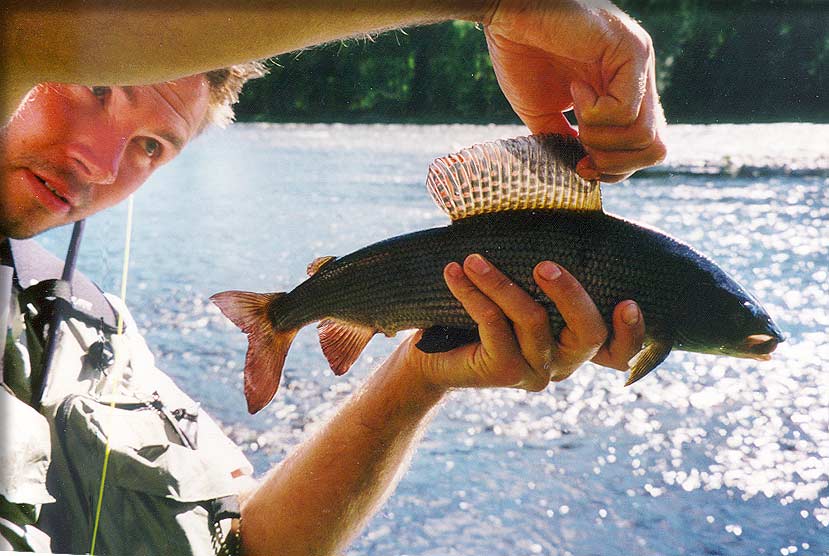 The author showing the beautiful and characteristic dorsal fin of a freshly caught grayling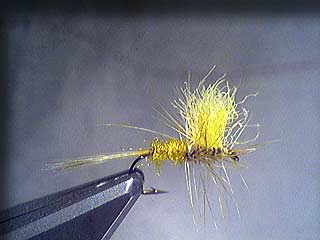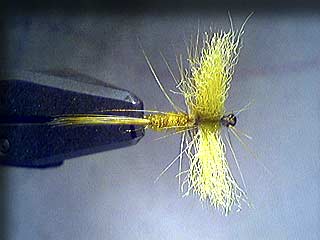 A small impressionistic maylfly imitation using the Polyving.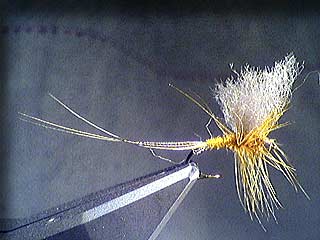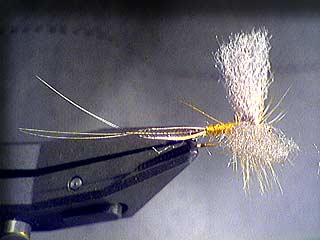 A larger feather tailed mayfly imitation.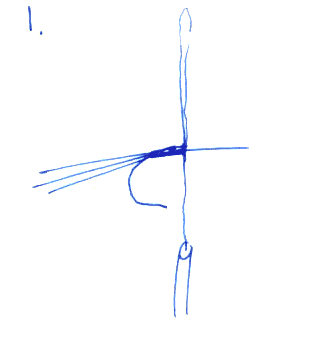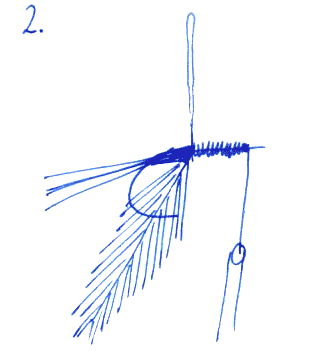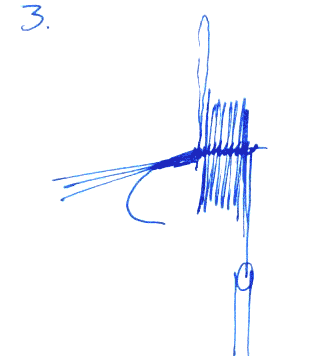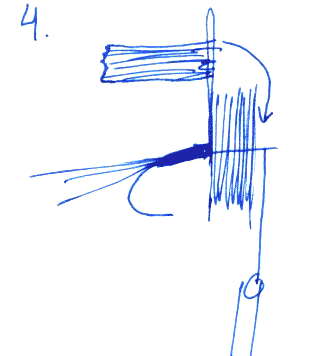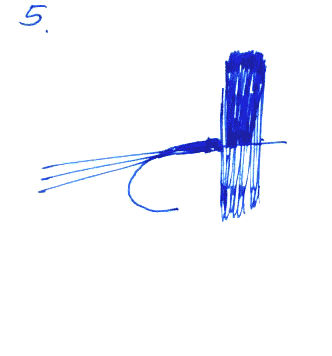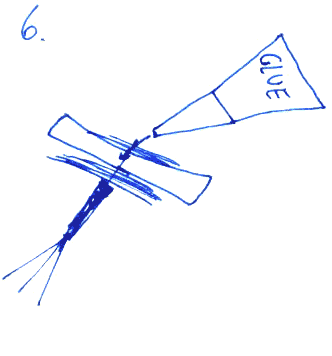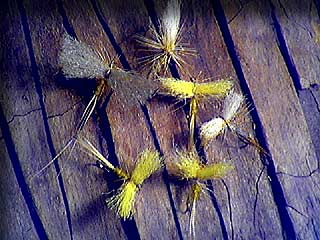 Even though it was great fun, we decided to go back on the road again. We wanted to see if we could find a better stream or river containing our primary goal: the grayling. We agreed on fishing a larger river this time to see if the size of the fish would match the size of the river or stream. Maybe we had been fishing in the spawning streams.
We found a good campsite and unpacked the gear. While some of us were setting up camp, we heard a yell from the riverbank. The youngest member of our team let us know, that he just missed the biggest fish of the trip, so far.
At this river we learned that the grayling is a social animal. It likes having company, so if there is one, there are probably more. Each school of grayling seemed to contain fish in all size variations. Besides that we learned, that they are not all that shy. If you wade carefully you can easily sneak onto them as short as 3-4 meters. That is: if you are approaching from behind.
They were easy to get to the dry fly, and they took it with a small nip or a big splash. This in spite of the fact that they were feeding heavily on caddis larvae, both freeliving and cased, and on everything else, like drowned insects, beetles, ants, small fish, and dragon fly larvae, which stumbled over the bottom.
Some graylings were feeding in, on or just beneath the surface, and these fish were the indicators for the shoals. So if you caught one, you where likely to catch more. Therefore the plan was simple: stay put and try to catch the rest. My dear friend Alex did that one day, and he had about 50 (fifty!) to his dries and they were all gathered in a small area of 7-10 square meters.
The best fishing was between 1 and 4 p.m. and then again between 7 and 10 p.m. Because of the light, which was quite sharp during the day, black ants and Europea 12 were the preferred choice for most of the company and many of the locals. I am convinced, that E:12 is the most popular fly in Sweden. E:12, was the standard answer from the Swedes, when we asked, which fly they were using.
Some months before this trip I bought Flytyers Masterclass by Oliver Edwards, which I can highly recommend to all tyers who are interested in tying super impressionistic and realistic flies. So my fly box contained ants and ants with a white polywing, Moser's Caddis, Rackelhanen (a swedish favorite) in grey/olive, brown and yellow/grey, Klinkhamer Special (an excellent parachute dry, which fishes very well and is easy to spot on the surface because of the white wing).
But the most interesting fly was an Adams Variant, of which I had only tied one for testing. I saw the technique of attaching this kind of a wing on a dryfly at The Fly Festival '99 in Kolding, Denmark. It was introduced to me by a flytyer from the Danish town Slagelse and on some leaflets from Vestjydske Åfiskere, where the build up of the special wing was described.
They both used a material from Umpqua or Fly-Rite as far as I recall, and they did cut this winging material into shape or burned it with wing burners, before attaching the wing. I only had a small sample from the British magazine Flytying & Flyfishing, and I used that on a simple spinner pattern, which was no good at all - but still a beauty to the eye.
I had to use the poly yarn, which is, as you probably already know, an excellent material for dry fly winging. I used the same technique... and voila! A super visible, high floater was born. Even though it had white wings it was still quite easy to follow between the white foam and bubbles on the surface. And as it turned out, it possessed a rather good side effect. It lured a lot of grayling to the surface, and as an extra bonus it hooked them well too.
When catching grayling I strike "immediately" but when I hooked my biggest one to this day it was an accident, because I didn't see the take. I only thought that the fly had drowned, but when the line stayed upstream just below a little fall I tightened the line and... hooked! 0.945 kilos. So, it goes to show that with a bit of luck, you can make do anyway. I am going to that same place next year - that's for sure! That wonderful place, with lots of grayling and of a good average size and most importantly - where the sun of luck still is shining.
Enjoy the pictures and Tight Lines.
Impressionestic PolyVing
At the Fly Fair 1999 in Kolding, Denmark, I was given a pamphlet called "Fluer Til Det Vestjydske" in which 2 patterns were described: Impression Dun and Impression Para Dun.
At the Fly Fair 1999 I saw a, at least for me, new winging material called Shimazaki Airthru (Fly Rite produces a similar material). It's quite strong, realistic and easy to use. Anyway I did not buy any of it. Most of my dries are tied with the aid of polyyarn, which is superfloatant, strong, cheap and comes in many colours. So I just converted the wing described in the pamphlet to a polywing, and a new highly visible fly for grayling was born.
The drawings shown are strongly inspired by Preben Torp Jacobsens drawings from the pamphlet.
1. Tie in the tail and dub just a little above the middle with your favorite dubbing.
2. Make a dubbing loop. Lock it precisely at the top of the hook. Tie in a dryflyhackle.
3. Dub the thorax with a slightly darker dubbing.
4. Turn the hackle.
5. Cut a few centimetres of the polyyarn, fold it right on the middle, around the loop. Hold it fairly tight and pull the loop to the head of the fly. Lock it with the thread.
6. Whipfinish.
7. Place a very small drop of a superfastdrying glue exactly on the top of the wing.
8. Cut the wings into shape.
9. If you like you can also cut a "V" in the hackle, so that the fly will sit better on the surface.
Fairly simple but gives a very nice, visible and attractive (for the fish) fly.
Tight Lines.
Photos and drawings by Kasper Mühlbach, fly photos by Martin Joergensen
©2000
Since you got this far …
… I have a small favor to ask.
Long story short
Support the Global FlyFisher through Patreon or Ko-fi. Both offer PayPal payments.
Long story longer
The Global FlyFisher has been online since the mid-90's and has been free to access for everybody since day one – and will stay free for as long as I run it.
But that doesn't mean that it's free to run.
It costs money to drive a large site like this.
See more details about what you can do to help in this blog post.