Published Jan 1. 2001 - 17 years ago
Updated or edited Mar 26. 2016
Jan Normandale, Canada
Another Column on Fly Fishing Matters
Jan has been a member of Trout Unlimited Canada and a flyfisher for over 20 years. Currently he is a National Director of TUC. He has an understanding non fishing wife Markie and 2 children, Jon and Lisa who both fish sometimes. Jan lives and works in Toronto, Canada. He fishes primarily for fun.
His trout adventures have taken him to England, Holland, Italy, Canada and the USA. His collection of fly fishing "stuff" and books is the source of much humour in his family and with friends.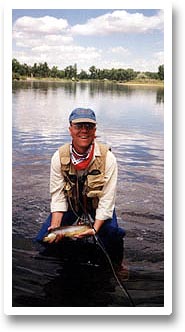 Since you got this far …
… I have a small favor to ask.
Long story short
Support the Global FlyFisher through Patreon or Ko-fi. Both offer PayPal payments.
Long story longer
The Global FlyFisher has been online since the mid-90's and has been free to access for everybody since day one – and will stay free for as long as I run it.
But that doesn't mean that it's free to run.
It costs money to drive a large site like this.
See more details about what you can do to help in this blog post.