Published Jan 1. 2001 - 15 years ago
Kasper Mühlbach, Denmark
Danish fisher Kasper describes himself like this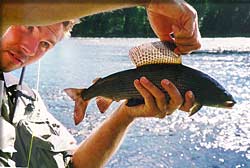 A bit about myself.
When I'm not working it is quite often because I have gone flyfishing, which I have been doing since my teens, more or less. Normally I fish in Denmark chasing the seatrout from the shore and the trout in a smaller streams in the northern Jutland. But since Sweden is so close to where I live, I spend at least two weeks in that country every year, where the Grayling and the Leuciscus cephalus (look forward to another article on GFF!) are my quarries.
I have been fishing all over New Zealand from Auckland to Stewart Island for about 5 months - except the most northern part of the North Island.
Even though most of my fishing results in contact with garfish, cod and seatrout (from time to time), the fishing I enjoy most is light dryflying for smaller grayling and beautiful brown trout - and the most important: good company and no noise! Anyway, the year 2000 will be the year where I catch a pike, a chub and a mullet on the fly, like I have tried to for the last three years...
Tight lines.
Articles by Kasper
echo authors_articles(12).p(); ?>