Published Jan 1. 2001 - 16 years ago
Updated or edited Mar 4. 2016
The eel smelling shrimp
Jan Reniers' Eel Smelling Shrimp
One of The Netherlands' many well known fly tiers is
Jan Reniers
. You will almost always find this easy talking dutchman near good fishing water.or you can meet him all over the world where fly tiers show their art.
He became famous for his different shrimp creations, his latest being a shrimp imitation with a shield of real eel skin, which, when wet, has the typical smell that attracts fish.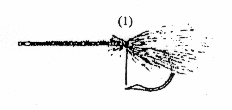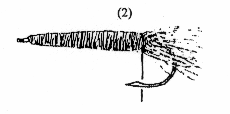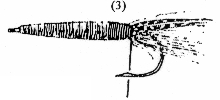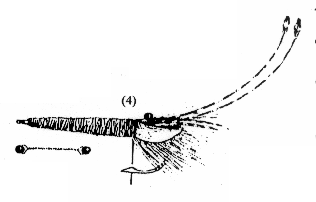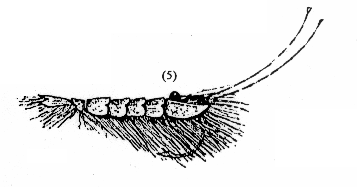 The tying instructions for this shrimp are
Tie in a plume of gray fox hair around the shank close to the bend of a hook size 2 (1)
Form a tapered body of gray wool (2)
Add a few mallard fibers on the outside of the tuft of fox hair (3)
Prepare the front two segments of eel skin
Tie the first segment in over the fox and mallard forming the inner 'cheeks' of the fly
After this the eyes made of black beans on copper wire can be attached on top of the fly
Add two antennae made from grizzly hackle stems
Tie the second segment in over the eyes and antennae forming the outer 'cheeks' of the fly (4)
Tie in a new tuft of fox hair under the hook forming the legs
Prepare and tie in a new shell segment and a new bunch of hair for legs
Repeat the above until the body is almost covered
Tie in the tail hair and shell before the last segment of back shell is added
Whip finish over the base of the last segment of eel skin (5)
As Jan says: "It sure isn't an easy fly to tie - but it can be very succesful"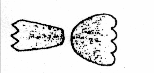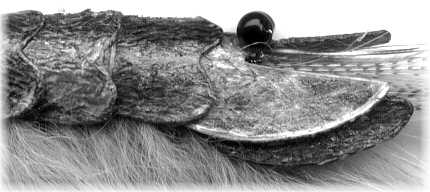 Materials:
| | |
| --- | --- |
| Hook | Size 2 straight eye salt water hook |
| Thread | Grey |
| Antennae | Tuft of gray polar fox hair, mallard fibers and grizzly hackle stems |
| Body | Grey wool dubbing |
| Eyes | Black beans on copper thread |
| Shell | Dried eel skin cut according to shapes shown |
| Legs | Tufts of grey polar fox hair |