Published Dec 11. 1999 - 18 years ago
Updated or edited Mar 14. 2017
The Red Fly
A large colorful fly for cod fishing.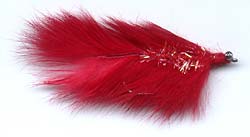 This is a true blooded cod fly. It has taken numerous of cod, and almost nothing else. It's a large fly - 1.5-2" - and I fish it on my usual cod setup: a 9 wt. 9' rod, fast sinking line and short twined leader with a 0-2X tippet. It fishes right on the bottom, and can really make a day worth remember. What the cod thinks it looks like beats me, but a guess would be a dream-come-true crossover between a crab, a clamworm and a small fish. Yummy!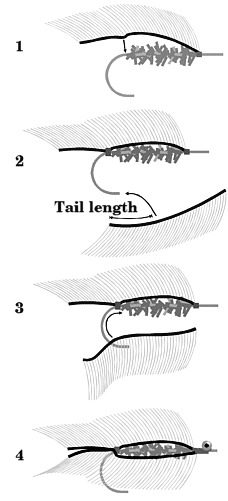 | | |
| --- | --- |
| Hook | 5/0, straight eye streamer hook. I prefer the John Holden from Partridge, but a heavier hook will do as fine. |
| Thread | Red 6/0 or kevlar for a durable fly. |
| Weight | Lots of bottle lead or lead wire |
| Body | Red Flash Chenille (Fritz) |
| Upper wing | Red rabbit zonker strip. Long haired. |
| Lower 'wing' | Red rabbit zonker strip. Long haired. |
| Eyes | bead chain eyes |
| Head | Dubbing from rabbit strips |
Cover the front part of the hook shank minus two eye widths with two-three layers of lead
Cover the lead with thread and varnish.
Tie in the flash chenille at the hook bend and wind the thread forwards to two eye widths behind the hook eye
Tie down the upper wing in front of the chenille (1).
Pull it over the body and tie it down behind the chenille right on the hook bend (1).
Slip a zonkerstrip over the hook point with the hairs pointing down/rearwards (2).
Pull the strip up under the upper wing and forwards against the chenille (3)
Tie it down just in front of the chenille (4)
Tie in a pair of bead chain eyes over the hook shank between the chenille and the hook eye (4)
Cover the thread wraps over the skin strips and base of the eyes with red dubbing
Form a small head in front of the eyes, whip finish and varnish both these wraps and the ones at the hook bend.
This fly can of course be varied in size and color and would probably make a fine fly for trout in smaller sizes and more natural colors: pearl chenille and natural rabbit or squirrel.
Since you got this far …
… I have a small favor to ask.
Long story short
Support the Global FlyFisher through Patreon or Ko-fi. Both offer PayPal payments.
Long story longer
The Global FlyFisher has been online since the mid-90's and has been free to access for everybody since day one – and will stay free for as long as I run it.
But that doesn't mean that it's free to run.
It costs money to drive a large site like this.
See more details about what you can do to help in this blog post.