Simply the Best Place to go for Online Fly Fishing and Fly Tying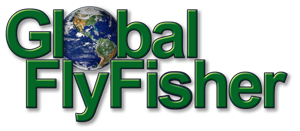 Published Mar 16. 2004 - 14 years ago
Updated or edited Nov 17. 2015
A five sea trout day
Spring came - just for an hour, at least
So it came at last - spring. For one short hour in one short day at least... and more may come.
We had an outing in the chilly weather, but as soon as the sun came out things started happening. I had been fishing with friends Kasper and Jens during the morning, with no impressing results. Well, with no results at all actually...
I decided to walk for a while and left Kasper and Jens to themselves. I was on a lucky strike there, and just as the sun came out I had two fish within five minutes. The first one escaped before I could get it photographed. Fumbling a camera and a fish at the same time is no good idea. The second stuck I was caught on "digital celluloid" before I released it.
The things slowed down for a while before I could enjoy three more fish within few minutes. They weren't big and the fights were as they are in almost freezing water - short. But it was five sea trout in one early spring day, which is more than I would dare expect.
Next week will see our annual Bornholm trip, and even though the weather forecast seems like one from hell, we certainly think that spring is here, and hopefully it will return sometime during the next week.