Published Jul 13. 2004 - 13 years ago
Updated or edited Sep 29. 2015
A rainy November
We're having the worst summer in many years
Usually I connect summer with my beloved night fishing for sea trout. Warm, calm evenings with the typical Scandinavian light, sub being low under the horizon, leaving a constant red-blue line over the water all night.
High pressures over the Eastern part of Europe usually settle in such a manner that the usual cold fronts that sweep in from West are kept at distance and bounce off somewhere upwards Norway.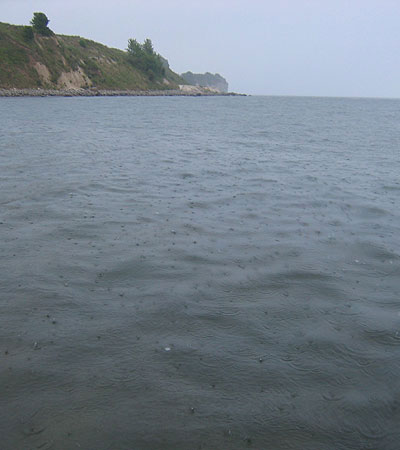 But there has been no high pressures this summer. No stable, calm periods. No high blue skies. The picture to the right is from my latest trip...
The strawberries are suffering from the lack of sun. Mildew and fungus thrives well. The berries do not.
People are suffering. We're seeing winter depressions like in mid February. People are suffering from the lack of sun. Prozac and Cipramil thrives. People do not.
Sea trout anglers are suffering. All their usual shoreline is constantly pounded by waves and wind. Rain is rolling over the country in endless showers. Se trout are thriving (which is good). Anglers are miserable. I am at least.
On one side the weather is perfect. The water temperature is optimal for sea trout - about 15 deg. centigrade - and no one can fish them. Angler have to shun the rain and wind, and the semi-commercial fishers who usually set a lot of gill nets are kept at home too.
the fish have perfect conditions for spawning. The huge amounts of rain and generally bad weather is exactly what the sea trout and salmon need to go up into the streams. Stream anglers report record catches.
But us poor inshore anglers are devastated. We have to escape out of the wind to shores that we rarely fish, or only visit in the autumn during the sea trout run. I even had to rig my spinning rod, just to get something out there. And I am usually not the one that lets a little wind keep me from fly fishing.
My usual spot are a wasteland of piled up sea weed, 3 foot waves and dirty water. Unfishable by any standard. I have tried, but with disappointing results.
This is the weather report for the coming week: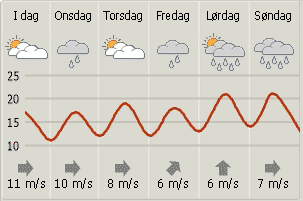 Hard Western winds, rain, clouds. Terrible! This one is from September last year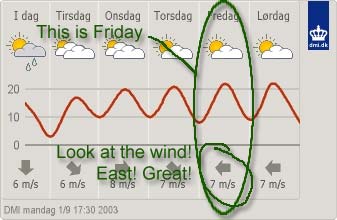 Actually a lot better! I wish we had weather like that right now.
Well, I'll just do like Swedish Sören Essebo who writes so excellently about pike fishing on his site Gagnekulla.net:
"I have come up with a great concept to handle the bad weather. I quite simply pretend that I don't have a summer holiday, but that this is my November vacation. Not hard at all. Although it usually is sunnier and warmer in November - at least in the beginning - than it is right now." [my translation, the site is in Swedish]
So I just pretend it's November. Considering that, the weather isn't that bad at all and the fishing is as unstable and unpredictable as it always is in the Autumn.
A very simple solution.
But I would rather have sunny and warm weather.