Published Sep 1. 2004 - 13 years ago
Updated or edited Nov 22. 2016
Whirly gig
A fond memory from a trip to California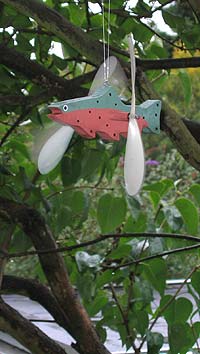 When I left my office in the basement today to fetch something in the living room, I looked out the window and my eyes fell on a small thing that hangs in a tree in the garden - a whirly gig made by and given to me by Rich Lobrowich who so kindly hosted and guided me on a great trip to Sierra Nevada in Califonia back then.
The whirly gig is shaped like a fish. Rich made them in many shapes, but gave me this particular one as a gift. I have always enjoyed its optimistic spinning in my garden all year round, and it does contain some fond memories of a short trip and a really good friendship.
The weather was particularly wet and windy today, and the whirly gig was happily spinning and turning around itself reminding me of my trip and Rich.
Rich wrote his version of my visit in his club newsletter from September 1999. You can find it here. Search for the word Danish.