Simply the Best Place to go for Online Fly Fishing and Fly Tying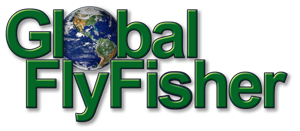 Published Oct 10. 2004 - 13 years ago
Updated or edited Dec 22. 2015
My GFF cap gone!
I sacrificed my trusty olive GFF cap to the mighty Skeena
I recently returned from a fishing trip to British Columbia - a lot of experiences richer but one irreplaceable GFF cap poorer.
I had had this cap since we first made them and tried to sell them here on GFF. We had a bunch made up, but honestly had a very hard time selling them. I passed out a few among good friends as did the other GFF partners, and took a great looking olive one for myself. I have been fishing with this cap during the last many years and it has rarely left my head when I was on the water.
Well, it did leave my head back in BC. We were sailing upriver in the Casiks - a tributary to the mighty Skeena - doing 20 MPH in a jet boat over very shallow water - maybe about 10' or 25 cenimetres.
Phlafff! And my cap was off and in the water behind us.
But... when sailing over water that shallow in a jet boat you don't wanna stop! If you do so the boat settles firmly on the bottom and will probably not come loose before next spring. So we continued full speed upstream and my cap drifted slowly downstream.
I slowly realized that my old, trusty, beaten, sweat soaked cap was gone! For good!
And that cap had been places!

I have a spare. A not quite as cool gray and blue one, but that is also my absolutely last one. It fits me poorly, the rim is too stiff and it has absolutely no soul or patina. And I don't like the color much...
I don't really know what to do. Maybe we'll have a new batch made. Maybe I'll get used to the blue and gray. Maybe I'll use something completely different.
No matter what I'll miss my olive GFF cap.
PS: should some Skeena steelhead angler find an olive cap like this one, please don't hesitate to contact me. A brand new blue/gray one might be the reward.