Published May 8. 2006 - 12 years ago
Updated or edited Sep 29. 2015
A Fine Fish
In my part of the world, rainbow trout are exotic fish. They certainly are not native to NY waters and are rarely stocked in streams or rivers. In fact, the only river I know in NY that got stocked with rainbow trout was the Black River in the southern Adirondacks, but the discovery of Whirling Disease may have affected that stocking program. I have not caught a Black River rainbow trout in a few years, so I don't know if they are still there or not.
This was not a stocked fish. The rainbows here have not been stocked since the late 1800's. While you cannot call these trout true natives, they are 100 percent wild fish. To hook and land a specimen like this is a rare treat. I was once again reminded of the power of a wild trout - as this fella (lady?) cleared the water and ran so hard a couple times that I had to clear a backlash on my reel. When I finally slipped her in the net, my hands were shaking. When is the last time a stocked brown trout jumped and almost spooled ya?
I've caught my share of big fish in my time, but there is something special about the intimate setting of a small stream and the explosive fight of a fish like this fella. It's amazing how all the skunkings previously sort of fade away.
I'm still basking in the glow.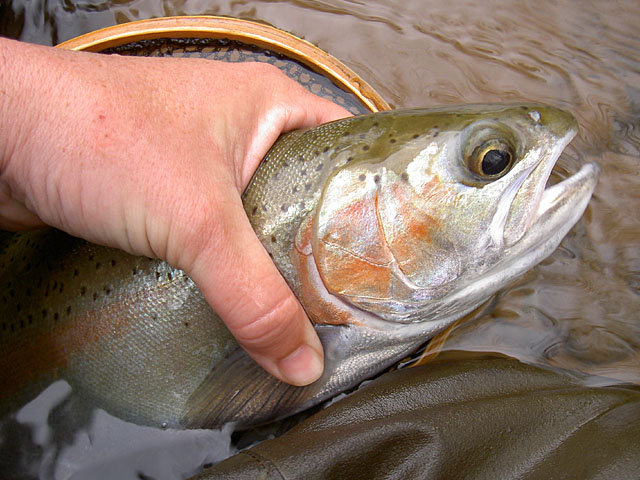 Since you got this far …
… I have a small favor to ask.
Long story short
Support the Global FlyFisher through Patreon or Ko-fi. Both offer PayPal payments.
Long story longer
The Global FlyFisher has been online since the mid-90's and has been free to access for everybody since day one – and will stay free for as long as I run it.
But that doesn't mean that it's free to run.
It costs money to drive a large site like this.
See more details about what you can do to help in this blog post.