Published Jun 21. 2007 - 16 years ago
Updated or edited Jun 19. 2017
GFF Summit 2007
So there will be a GFF Summit this year! At long last Martin Joergensen has found the time to get some facts together and start working on the dates and practicalities. It will be in September and take place on Fyn, Denmark like last year,
It's that time again. During the weekend September 21st, 22nd and 23rd 2007, the doors will be open to a fish-in with fellow GFF writers, editors and readers.
The second Annual GFF Summit.
Last year we had a great time fishing the waters on Fyn, and hanging around chatting, eating having a beer and a good time.
I have been asked several times to repeat this arrangement, and at long last I have found the time to set something up. Since we had good success with both weather, accommodation and fishing last September, I have decided to pretty much copy the setup from last year.
So we may decide to stay in Odense on Fyn like last year. I will try to book the same hostel, which was a nice place with very fair prices. We have the coast nearby for almost any type of weather, and if you drive about an hour, you will be in an area with lots of nice streams for brown trout, grayling and even sea trout or salmon if you are so inclined.
The program
The program will essentially be as last year:
Friday afternoon:
arrival,
greeting and cavorting,
dinner in town or night fishing depending on temper.
Saturday:
breakfast at the hostel,
off to the water: coast or stream depending,
lunch by the water,
fish even more,
return to hostel,
dinner,
fly tying, picture show and a cosy evening
Sunday:
breakfast at the hostel,
off to the water: coast or stream depending,
lunch on the water,
goodbye's are said
more fishing,
and it's every man for himself
Free of charge
Participation will again be free of charge, meaning no fee. You will have to bring yourself to the venue, and you will have to pay for a bed with breakfast and pay if you want to participate in our Saturday night dinner and sharing a waterside lunch with the rest of us will also cost you a bit. We can arrange with the hostel to allow us to make sandwiches, but I suggest we repeat last year's success: bags of fresh groceries bought in a local super market and devoured on the beach.
The price for last years summit was only about 6-700 DKK or about 100 Euros for two nights, dinner and lunch. Apart from that we spent money on a dinner in town and drinks - and transport of course. So it was not an expensive trip.
I expect the price level to be the same this year, but will check the final prices as soon as I get an idea about the number of people.
Last year we shared rooms 8 people in each room, and apart from a bit of snoring, that seemed to work out fine. The hostel has both large and small rooms, and if any one wants separate rooms, let me know. That can probably be arranged for a small extra charge.
So to repeat myself from last year: Any takers? Drop me a mail on martin@globalflyfisher.com and I'll start building a list of participants and get this thing rolling.
I have started a special forum for this event on our forums page.

The T-shirt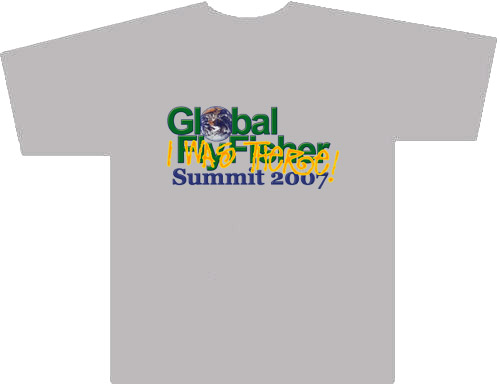 More content from the front page