Published Dec 10. 2004 - 18 years ago
Updated or edited Oct 8. 2020
Box of Wets
Got Wet Fly Fever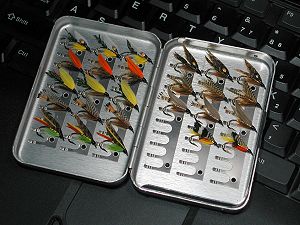 I've been messing around with the classic wet flies lately. They are fun to tie, and really pretty. They dress up a clip fly box nicely. This one is a Perrine 60, one of two I've got reserved for these flies. I might replace them with a Wheatly 4" clip box with 7's if I can raise some fun money. It's not quite full yet - but we're getting there.
The flies are Dr. Burke, Pebble Beach, Cassin, Abbey, Ferguson, Fish Hawk, Catskill, Pink Lady, and finally a couple Tomah Joes. There are so many patterns, it's hard to pick ones to tie. I'm trying to find a mix of wing materials - some bright quill, some mottled turkey, some duck flank, and a mix of body styles - palmered hackle, ribbed floss, and herl. I've wanted to tie up a set of flies like this for a LONG time.
Maybe the other box will be filled with some of the classic UK wet flies. We'll see.
More content from the front page