Published Mar 6. 2012 - 11 years ago
Updated or edited Oct 28. 2021
Favorite Flies for Baltic Seatrout
In this book Martin has tried to cover his favorite fly patterns, and has included 29 of the flies that he and his best fishing friends use 90% of the time when they fish for Danish coastal seatrout.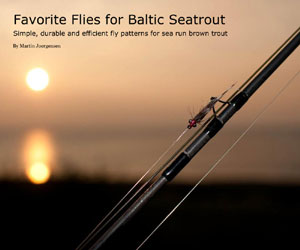 As I have already written in our blog, I have made another book using one of the excellent self-publishing systems online. Print-on-demand is a great way of making books, and I'm very pleased with the result (as I have been with the other ones).
This time I have tried
to cover my favorite fly patterns, and have included 29 of the flies that I myself and my best fishing friends use 90% of the time when we fish for Danish coastal seatrout.
Each fly is covered with nice images, a materials list and a tying description. There are tips on fishing the fly and some images of the fly in action, the land- and seascapes and what I thought would do well in the context. I have also added some full spread images to break the rhythm of the flies. As I said: I'm pretty satisfied myself.
If you are interested
, you can easily order your own copy. Prices start at 28 US$. I don't make money on the sales, so don't buy it for my sake or the sake of GFF, but because you want a nice book on seatrout flies.


It's a long and laborious
process to make a book. This has been underway for more than 6 months, and I have worked on and off on it for a long time. There are things I want to change, and I haven't gone through the finished product in detail yet, but I know when I do I'm bound to find errors... small ones, but quite likely errors.
Still: what fun
it is to have your own stuff in your own book!
I have an article
in the pipeline about some new seatrout patterns that I'm starting up with this spring. And I also started making an article about doing your own books using the same online service that I have used. It's fairly easy and a lot of fun. They will both appear on the front page once they are ready.