Published Oct 6. 2010 - 12 years ago
Updated or edited Jul 3. 2016
How to look good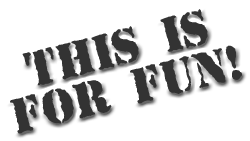 Appearance and behavior are two very important aspects of fly fishing. Act or look the wrong way, and fellow anglers will immediately judge you as an amateur. This first chapter of two will teach you what to wear and carry.
Read this article and learn the secret code of the brotherhood of fly fishers and gain immediate respect and envy from people, who would never before even turn their head in your direction.
This is the first part of two, and it tells you what clothes and gear you need to own and wear in order not to be laughed off the water. The second part will teach you how to behave - from putting on your waders and gearing up to stepping into the water.
The article has no advise on fishing or any other such irrelevant matters. Everybody knows that your fishing has no influence on the respect you earn from your fellow fishermen.
Style is everything!
Apparel
You want to look snazzy and modern - or at least contemporary - so the clothes, waders and gear you wear on the outside has to be in order. Let's start from the bottom with the boots:
Boots are loose and must look modern and high tech. Felt is out and any kind of material with the word stealth in its name is in. You father's leather wading boots or some cheap Chinese canvas-model will not do the job! And let me repeat: we are of course talking loose boots. Waders with permanently attached boots look cheap (and most are) and signal Wal-Mart or what's worse.
Waders are breathable. There are no other options! Neoprene is for hillbillies, plastic is for kids. Real anglers wear breathable waders with many layers of expensive space age materials treated with laser, nanotech and voodoo. And waders are tan or dull olive. Not brown, not gray, certainly not blue and--God forbid--not camouflage!
Under your waders you have high tech synthetic clothing. You might use some kind of modern wool, which is as good if not better and clearly signals "thinking and discerning angler", but high end synthetics and brand name fleece will do. You do not wear cotton! And you do not, like in never, ever, ever, wear jeans! Jeans under waders equals standing on the bank yelling "I'm a dumb beginner!" up and down the stream.
On your upper body you wear fleece. Preferably some odd but respected (and outrageously expensive) mountaineering brand. Fishing brands can do in a pinch. No-name products may work as well, but only poor and unable people buy no-name fleece. If you want to wear a shirt, make sure it's a brand that all your fellow anglers will recognize from glossy catalogs with lots of pictures of palms, blue water and permit or tarpon. Any other shirt will reveal your blue collar background and worst of all are plat cotton lumberjack-shirts. Don't go there!
If you wear a vest, it's gotta be a short construction with lots of neat pockets, mesh, D-rings and straps that you have no idea what to use for. Do not get tempted to fill them all or hang something from all attachment options. On one hand you want to signal that you know what Fuller's earth, Amadou, CDC-oil and Mucelin is, but on the other hand you do not want to look like a Christmas tree.
Have few and well tuned fly boxes. One thing that will impress any angler is a box with a ton of similar patterns. Opening a box with hundreds of almost identical dries or rows and rows of shrimp patterns made in the exact same mold, will strike awe with any passer-by who asks you what you are fishing.
You always keep the simple bead head nymphs and colorful streamers that you really fish with in a small ziplock bag or film canister in a hidden pocket.
If you have a fly pad on the vest, make sure to stick a few flies in there - mostly dries of course, even if you fish nymphs or streamers all the time. And small ones. Sizes 14-16-18.
If they look too dry and unused, simply use spit to make them look used. And stick a Chernobyl Ant, a large foam hopper or some other odd fly in there just for good measure and to strike conversation. If you don't fish streams, transform this to salmon flies (small black doubles and a single large gaudy tube fly), saltwater flies (a few small tan shrimps and a large colorful baitfish pattern). Any seasoned angler looking at that collection will immediately recognize a fellow angler, who knows what he's doing.
And a jacket. If you wear a jacket, make sure it's simple but expensive and made for fly fishing. Short with two large chest pockets, side pockets for you hands and not much more. Some expensive and exotic, but recognizable, brand isn't bad, but the top of the line fishing brands will do.
Practical jackets of any other kind are a big no-no: skiing jackets, hunter's jackets not to mention different types of marketing gifts with oil company logos stitched on them. Simply say no!
And jackets are dull olive! End of story. Tan can work in a tight spot, but blue, green, red, orange or any multi-color scheme is out of the question. And camouflage? Don't even ask...
And just for good measure: you wear the jacket on the outside of the waders. Never inside. Never!
Gloves...? Well, we just don't wear them. We freeze with dignity. Or stay home.
A scarf or something else to protect your neck is OK. Something trendy like a Lebanese Arafat scarf or your old scout scarf will do. But even better is a Buff or a similar contraption, which shows that you are on the beat. Everyone will assume that you have it because you usually use it when you are protecting your face from the blistering sun while chasing permit in the Ascension Bay. If you have no idea what a Buff is, tell no one and just buy one on the first possible occasion.
A hat or a cap is a must. But don't wear a cowboy hat unless you are from Texas or Australia, in which case you are excused. The rest of us wear a basball-style cap in a dull color and maybe with a logo, a fish or some other marking. If it's really cold, you are allowed to don a beanie type of hood or maybe your buff rolled up to a head band. Chinese style worker's caps or trucker style caps have won some hearts lately, but don't be tempted. The classical 6-pane baseball cap is the safest bet. And if you want a stitched logo, make it one of rare origin. You own web site, some exclusive fishing club or just a nice fish. Big brand logos are for the ones who have to buy their fishing identity in shops, and nothing for the rest of us.
And please don't try too hard: sixpences, berets and other alternative head gear may look cool in the mirror in the shop, but fashion statements have no place on the stream!
Now that is of course the approved uniform, but if you want to signal the extra level of experience and knowledge, you can consider a special pair of sunglasses (like those for glacier use), or a particular knitted sweater (like a mountaineering one with wind stopper) a bowler hat or something else that really stands out.
Gear
Your fishing gear is of course the best of the best. Brands is the keyword here. And if you don't buy the expensive well known brands it's only because you buy something even more expensive, rare, custom made, hand crafted and very unique.
A safe bet is of course just going for big brands like Sage, Loomis, Winston, Abel, Waterworks and manufacturers along that line. That will not make heads turn, but certainly earn you some discrete, acknowledging nods when you meet people who know their gear catalogs.
And needless to say that you have more than you need. Way more. One rod is no rod. Two rods are better but four rods means that you really have everything under control. And a reel and a line for each, please. No embarrassing changing of reels not to mention the highly inappropriate change of line on a reel waterside. Simply dig into your reel bag and get out the reel with the appropriate line.
And speaking of... reel bag. Of course you have a reel bag! Because you have so many reels that they need their own bag. In the bag department you will need:
a reel bag - as mentioned above.
a waders bag - a nice waterproof one made specifically for wet waders and boots.
a large gear bag for clothes and assorted gear.
photo bag, because you of course have as much photo gear as you have fishing gear.
Add to that a set of rod tubes or one large rod tube for your rods - which are all four-piece or more. The only rods, which break down into only two pieces are split cane rods of which you of course own a couple for chalk stream use.
Needless to say that all the bags are brand name bags. You might consider adding a daypack to carry with you on short hikes, but make sure to fill it with high tech gear like fancy drinking bottles, a futuristic thermos for your Kenyan mountain coffee, the best trail mix and power bars money can buy and a lunch pack that looks like it was made by a molecular gatronomer from a Michelin restaurant.
No name bags are of course forbidden and plastic bags are plain sacrilegious.
Thusly equipped you are ready to go fishing!
But don't take too lightly on the of handling these items.
The next article
in this series will tell you how to get into these clothes and gear up in a manner that will make you look like a world champion.
More content from the front page