Published Dec 8. 2008 - 15 years ago
Updated or edited Dec 14. 2015
10 Ways to Fish Green
Fly Fishers are the original "green" advocates. We are active in conservation. We advocate catch-n-release. We support stocking programs. We even save the lives of bait(!) But there's more we can do.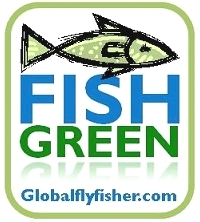 You've heard it from so many sources...live green, do green, be green, green this and green that. The green message is as much marketing hype as it is reality. For the partners at GFF, this made us think how the "green" movement affects flyfishers. It's common sense really...and the if you sit down to think about it, fly fishers have been practicing "green" since the beginning of the sport. But just to be sure, we at GFF have developed a list of ten things we all can do to be more "green"
as fly fishers. Call it by any name you want, but being "green" as a flyfisher makes just good conservation sense.
We feel the list below contains the most important items, but there are many other ways to be a "green"-conscious fly fisher. After reading this article, consider adding your Fish Green idea at the bottom of the article using our comment form. Your comment, along with those from the thousands of other readers that visit this site daily, will make the most comprehensive list of fly fishing conservation tips for others to read, learn and enjoy.
So, on with the list...
---
#1 Pack Out Tippet
Discarding Tippet: Organizations like this one in Florida can help you for free.
NEVER discard tippet streamside, no matter what the length. Put excess tippet and old leaders in a spare pocket, then throw it away or recycle it properly when you are home. Some streams and lakes now have monofilament line recycling cans. Or, consider leading the charge in placing recycling bins in your area.
---
#2 Pack Out Split Shot
Read this article to get ideas for alternatives to using lead in flies
NEVER discard split shot into the water. Remove them and re-use them. Keep them tucked away in a plastic ziplock bag in your vest. When they've reached their useful life, discard or recycle them properly.
You might consider acquiring a device such as the Opaka split shot remover.
---
#3 Minimize Synthetics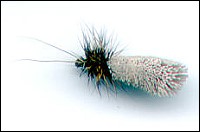 Consider fishing flies with little or no synthetics at all. Use only materials that nature gave us. If you loose the fly, they're designed to break down naturally. Isn't this how fly tying began anyhow?
---
#4 Walk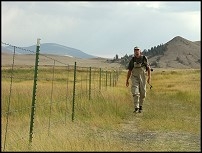 Minimize the use of your personal vehicle; ride a bike to the stream, take public transportation, share a ride, walk the extra mile. Do whatever it takes to minimize the use of fossil fuels.
---
#5 Tread Lightly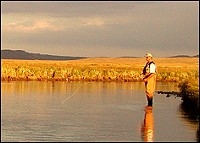 Respect the habitat in which trout food grows. Stream and lake bottoms all contain essential habitat and nutrients for nymphs and small bait fish. Don't walk through a cress-laiden stream to get to the other side. You just destroy the scud-laiden cress which took all season to grow. Don't trapse through a slough of a stream just to see what's going on. You destroy silt in which burrowing mayflys live. Don't walk on stream improvement structure. When you walk through a stream, if you splash, you trash...be gentle...you get the picture...
---
#6 Reuse Bottles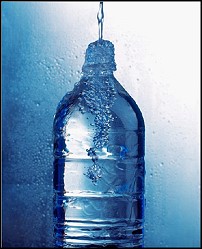 Re-use water bottles . Most of us carry a liquid refreshment while fly fishing. Instead of buying a bottle of water and discarding the bottle when you are finished, keep it, fill it up and use it for the next trip. Imagine if those same 10,000 people in #5 all re-used 1 water bottle for just one time; yep you guessed it…that's 10,000 less plastic bottles sitting at the bottom of landfills.
---
#7 Pack Out Ciggy Butts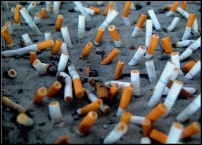 Pack out cigarette butts. Cigarette butts are the most littered item worldwide according to cigarettelitter.org. For those of you who smoke (and you shouldn't to begin with for obvious reasons, but I digress…), carry a small baggie in your vest and put your cigarette butts in the baggie. Ciggy butts are not biodegradable. "Cigarette filters have been found in the stomachs of fish, birds, whales and other marine creatures who mistake them for food ... Composed of cellulose acetate, a form of plastic, cigarette butts can persist in the environment as long as other forms of plastic", says the Clean Virginia Waterways organization. Better yet, get your own free personal ashtray by visiting www.cigaretteLitter.org.
---
#8 Clean Equipment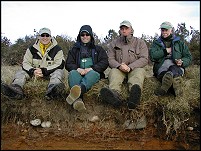 Thoroughly clean your waders and boots. Several issues that affect our waterways are now becoming pandemics: whirling disease and New Zealand mud snail (and other aquatic nuisance species) to name a few. They are easily transported in the felt of wading boots and on the surface of waders.
---
#9 Collect Trash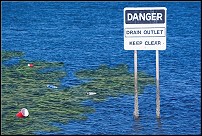 Make a habit of picking up at least one piece of trash on each flyfishing adventure. Let's put some numbers behind this concept: let's say that just 10,000 of the hundreds of thousands of visitors to this site each year, pick up one piece of trash on each flyfishing trip. Let's assume they fly fish 10 times a year on average. That's 100,000 pieces of trash picked up with hardly any effort at all! Just imagine the volume of garbage we are saving from contaminating the waters we all enjoy. Now, imagine if we made a point of picking up several pieces of trash on each trip….whoa!...now we really are making visible strides. Make a habit of carrying a kitchen-size trash bag in your vest, fill it up as you see trash streamside and discard it properly when you return from your trip. It's as easy as that.
---
#10 Educate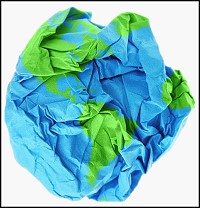 And what's the most important thing you can do? Educate those around you of the nine things above (& of the list of ideas below, shared by our loyal readers). Send them the link to this article.
More content from the front page