Simply the Best Place to go for Online Fly Fishing and Fly Tying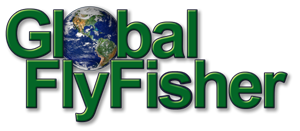 Published Aug 26. 2004 - 13 years ago
Updated or edited Nov 17. 2015
Chained, really
Not fishing is pure torture!
When we originally created this blog, we gave it the headline with the wording "chained to our computers" - more in jest than anything else.
Well, even though it's only been a few days since I was out fishing last and I know I shouldn't be the one to complain, I hate sitting here in front of my monitor rather than stand at water's edge somewhere. I truly feel chained to my computer!
"I f*ckin' hate it" as Ozzy Osborne would have put it if you'll pardon my French...
I simply get frustrated by looking out the window and seeing a day with sun, rain and clouds drifting over. I know very well that fishing might not be very good right now, and that I would have to squeeze in any fishing time I took between family, house chores and work - plus a few other things. But man, I miss going fishing!
The feeling I get when I stand by the water simply is my number one drug. I get withdrawal symptoms whenever I don't get out. Even though my diary tells me that I was out five days ago, it still feels like a month. And knowing that August, September and October can be perfect months to go out makes my symptoms even worse. They bring mild days, sun, lots of activity and some really good fishing, but they also bring bills, meeting and work.
Just being out with good friends, sipping coffee, talking, fondling gear and occasionally casting a fly is so soothing, that I wonder how I'll get through the coming months without fishing at least once or twice a week.
The coming weekend could have been the next shot coming up, but of course I have to teach Saturday, and will have fly there, spend the night and fly back Sunday. A whole weekend wasted.
And for some reason I know my phone will ring and emails will drizzle in carrying more work Sunday night... not to mention Monday.
Aaargh!