Published Oct 16. 2002 - 21 years ago
Updated or edited Oct 28. 2021
Carrie's Challenge
I have never used a vise; I have never seen anyone tie a fly and noone has ever seen me tie one. I have never read or had any fly tying instructions. Said by Carrie Stevens in a letter to Jospeh Bates. The words of a trailblazer. How fortunate we are to reap the benefits of a road paved by innovators before us, such as Mrs. Stevens.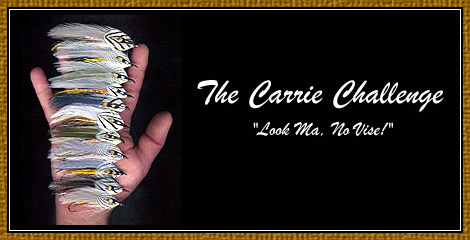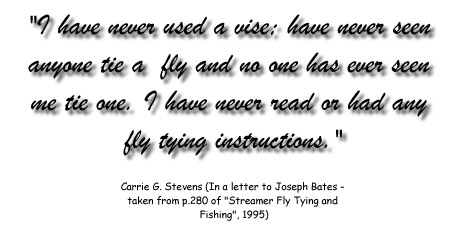 The Carrie Challenge
The words of a trailblazer. How fortunate we are to reap the benefits of a road paved by innovators before us, such as Mrs. Stevens. We have a treasury of her wonderfully artistic patterns, left for us to recreate and use. Flies as lethal as they are beautiful. Her unique methods and patterns are being rediscovered today through books like "Forgotten Flies" and "Carrie Stevens - Maker of Rangeley Favorite Trout and Salmon Flies". Her legacy, still being pieced together with every additional 'previously unpublished' Carrie Stevens streamer pattern uncovered. The
many articles and books written since her death allow us to know her work intimately. Perhaps more so now than many did in her heyday.
So here we sit, with our large, glossy, full-color fly pattern books open as we flick on a halogen light, pop an instructional videotape in the VCR, pluck some genetically perfected saddle hackles and rev up the Renzetti to spin out a few Gray Ghosts. Yes, we have plenty to be thankful for. Advances in 'tying technology' that Carrie did not have at her disposal.
'True rotary vises. Matarelli whip finishers. Adjustable-drag bobbins.
Would she have taken advantage of these things? Would she have even cared that they existed? Or would they have been a hindrance to her? Would she have continued her craft, just as she did then, and shun the fancy tools we use today? By the strength of her statements above and her milliner's background, I'd hazard a guess toward the latter. True innovators usually go headlong against the grain, cutting their own path.
Carrie Stevens' Gray Ghost is perhaps the most famed streamer fly in the history of the sport. We have an obvious love-affair with this fly. No genuine streamer aficionado would be without one or two in his flybox. And for good reason. It is not only a great smelt imitation for northern waters, but is a highly effective general baitfish imitation for many a stream and lake. We tie them year in, year out. We love to recreate her artistry, especially in that fly. Every painstaking step. Every layer. Every subtle detail. And with relative ease. No, not that a Gray Ghost is easy to tie by any stretch. On the contrary, in comparison to most streamers, it is among the most difficult to tie correctly. But relative ease with respect to Carrie's solitary efforts in the development of her 'Rangeley style.' What must have been constant experimentation with the materials and elements of every complex pattern.
Formulating and refining her own novel methods, all done competently and completely with her bare hands. In that light, it seems we get to start the race somewhere near the finish line. So then, the question begs to be asked - are we, as modern day tyers, spoiled? Certainly we have at our fingertips an embarrassment of riches in the form of detailed information on tying techniques and styles such as hers. Most of which has been absorbed into our brains and practiced to perfection. But what about the tools? What about our well-engineered vises and other tying gadgets? Could we do without? How would we fare in her shoes? To tie them as she did, completely by hand, without aid. It seems as though we almost owe it to her to try, at least once. Do we have the patience? The steady hand? The grip? The gauntlet is thrown down...
On February 22, 2001 (Carrie Stevens' birthday) 'The Carrie Challenge' was posed to the members of the Streamers@ email discussion group. The thought being that it would be a good way to test ourselves, visit or revisit our tying roots, and gain an appreciation for the talent of Mrs. Stevens. A learning experience that may clue us in as to how lucky we really are to have some of the tools and tying advances at our disposal that we do. Below are the guidelines or 'rules' as presented to the participants:
The Challenge
You have one shot to tie a Gray Ghost by hand, without a vise - just as Carrie herself did.
One try only. One shot, one fly.
No practice, No 'do-overs', No backtracking.
No special tools. Bodkin, Bobbin (for thread only) and scissors are the only tools allowed. Feel free to do without them, if you wish.
Please adhere to the original pattern. Generic floss would be an acceptable sub for silk, as would mylar tinsel for metal.
You may pre-assemble the wings (by hand), just as Carrie did. In fact, I would encourage this in the interest of being true to her methods. The use of glue in this process is also permitted, as there is evidence, based on her millinery background, that she employed it.
~ Chris Del Plato
The Challengers
Wes Autio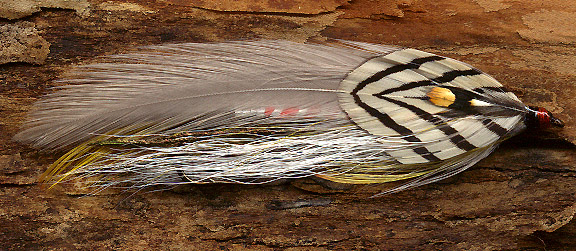 I have to admit that it was truly a humbling experience. Up to the orange band on the head, the only tool that I used was a pair of scissors. The orange band defeated me, so I used thread on a bobbin. Simply, I couldn't do it otherwise. I had a terrible time with the head. Wrapping the body was also a bit challenging. Attaching the belly and underwing material was almost easier off the vise, and attaching the wing seemed easier (probably because I used more glue than normal). It was interesting to learn that it was not impossible to assemble a fly without a vise, and I actually found that I liked putting the wings on better off the vise.
---
Scott Daskiewich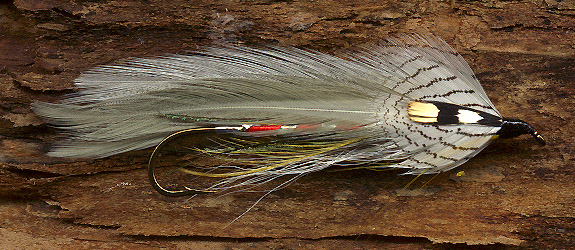 Overall a fun exercise. Fulfilling to make something with your bare hands. Predictably, my problem areas normally with Gray ghosts - the GP and the floss body. The wings are slightly off kilter but it gives credibility to my adherence of the first attempt rule. Interestingly, I look at my fly and some Stevens originals in Hilyard and I can almost see a general resemblance in the overall shape and style. Perhaps the hand tying imparts this in a subtle way.
---
Hugh Ruane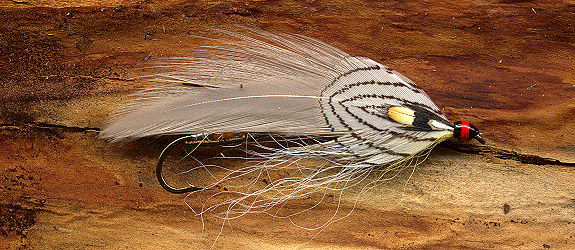 I really missed my vise. Tying in hand was slow and meticulous and threw off my ability to quickly proportion the materials to the hook. Also had a hard time situating throat materials. Body was fairly easy when I alternated holding the hook between hands. I used a bobbin, which I think was a mistake (it kept getting in the way). I half hitched after every step so as not to lose any completed steps, and I've got to admit I used a vice to apply the red band to the head. I didn't think the half hitches would hold until I cemented the head. I have a new found appreciation for my vise and for the tiers who can tie with there fingers. How did Lee Wulff tie match-head sized flies using only his fingers??? All in all a great exercise.
---
Warren Duncan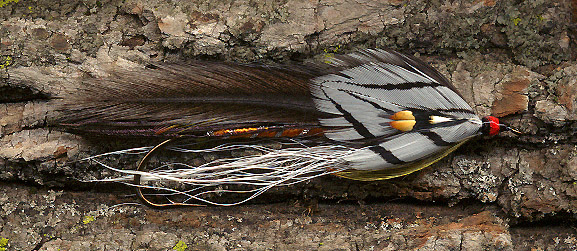 Where do I send this piece of misery? True to form I will send the first one I attempted. Even my favorite Anglers Corner couldn't help the head.
---
Bryant Freeman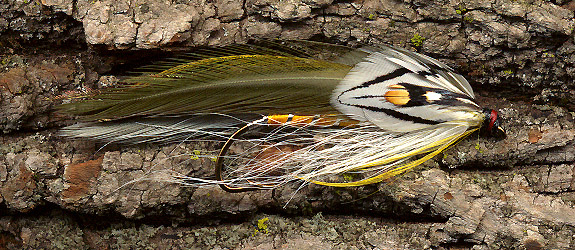 Took the time this afternoon between snow showers and cleaning the driveway to meet the Carrie Challenge. Old saying from old home of Greenfield in Nova Scotia - Put up or shut up!! :) The toughest thing I found about making the fly was keeping the camera steady when I took
the picture and held the materials and hook at the same time. I used 00 thread, a 3665A hook and one coat of Cellire. The fly was my first by hand in 30 years. Fingers do not want to respond anymore.
My step-by-step labors can be seen at: http://www.salmonflies.com/handrolledghost.htm
---
Clyde W. "Doc" Watson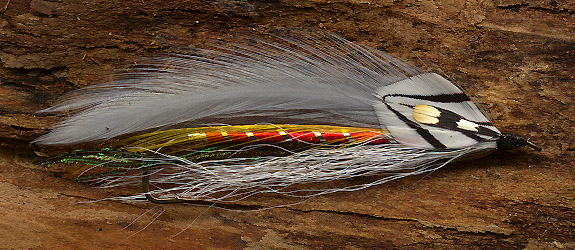 I'm typing thus w/ one hand as the other is holding my attempt in progress. I needed a little stress break! The wing preassembly was easy. And I used the floss to tie in the tinsel rib. I'm taking a quick break after tying off the tinsel. Somehow I think the hard part is just beginning. :-) Good challenge, Chris.
I'm learning a lot in the process.
This was a lot of fun. It also puts things into perspective on what fly tying was like. However, I remember when I first started tying. It was a lot harder until I learned tips different tips and tricks from others. I wonder what advise Carrie and others would give on tying flies by hand.
---
Jerome Malloy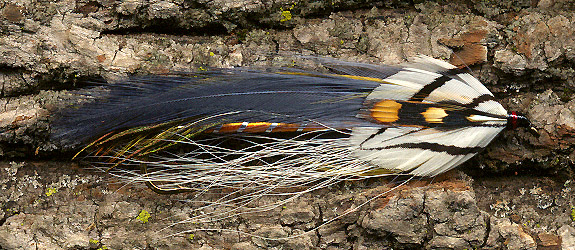 Difficult.
Not a framer, but sure would take it out fer a drag in me favorite lake. I'm a namby pamby - used me bobbin.
Jest too lazy to pull 12 feet a string off it.
---
David Talley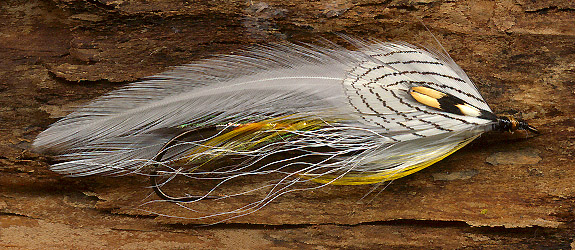 For the most part, it turned out better than expected. It was definitely an interesting exercise. I had a hard time keeping the bucktail from being too unruly without the use of both hands and tension from a bobbin. Also, the head...my poor head! You wanted one shot, you got it, but it ain't pretty! Tools used: bodkin and scissors. Tool I missed most: whip finisher. As embarrassing as it is, I've never learned to do it
by hand. Hence the sloppy head (half hitches weren't cutting the mustard).
---
Emmett Johnson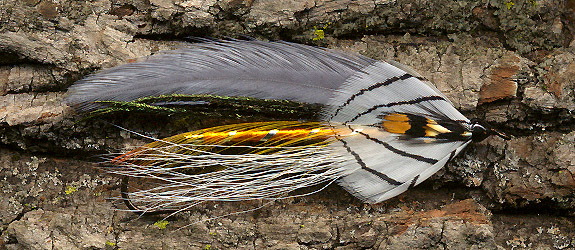 Difficulties:
Stopping my hands from aching and shaking while wrapping thread and floss.
Securing the ribbing tight around the body.
Whip finishing the head.
Finishing (head cement) the fly in my hands. I normally do it while the fly is still in the vise.
---
Deryn LaCombe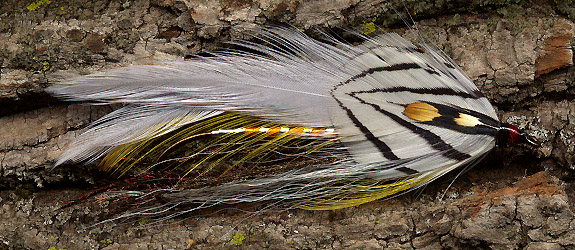 Who came up with this challenge? I want to know who to hunt down! :) My very first effort at a hand-tied fly and most probably my last! Only tools used were scissors and head cement. Pre-staged everything except the peacock and bucktail. Funny enough, I had the most trouble with the schlappen and throat golden pheasant crest. First time whip finishing by hand. I did a couple of practices prior and didn't have much of a problem, but prefer the Matarelli tool.
---
Chris Del Plato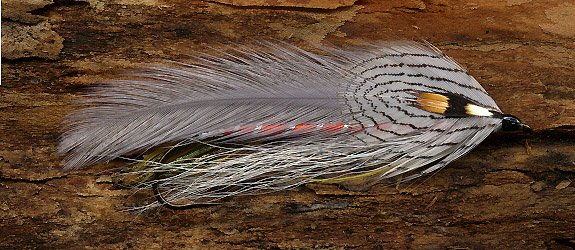 I was pleasantly surprised at how well the fly turned out. In hindsight, maybe it really shouldn't have surprised me as much as it did, since the majority of the fly's visible attributes are in the wing assembly. Whether tied in a vise or by hand, if one is tying this style of fly in the manner it was conceived (pre-assembling the wing/shoulder/cheek by hand), there should probably be little or no noticeable difference. Alignment and setting of the wing is a different matter. While it didn't give me great trouble, I think it is easier to view the alignment of the wing assembly in a vise, when you have the luxury of moving your hands/fingers away from the fly. Belly and herl also weren't too bad, though, as usual the crests did their best to misbehave. The most challenging and painful (hand cramps) part for me was the body and tinsel. Keeping a good steady grip on the hook while also keeping tension on the materials being wrapped was tough.
My approach was to hold the hook in my left hand and wrap with the right, and then pinching or holding each wrap with free fingers from the left hand. Worse than any writer's cramp I ever had! I bet ol' Carrie had a helluva handshake! :) Anyway, the resulting body was, shall I say, less than smooth. And the rib spacing was anything but uniform. Good thing the Rangeley style partially conceals the body! The decent look of the wing assembly belies the actual difficulty of tying these flies without a vise. Heck, they're difficult enough WITH a vise. After this, I must admit that I am spoiled by the tools I have at my disposal.
Can't say I'll be in a rush to do another, but I am glad the experience gave me a connection to our streamer tying roots and a greater appreciation for the talents of Mrs. Stevens.
---
More on Carrie Stevens
Follow these links to many more Carrie Stevens flies, including some originals tied by Mrs. Stevens herself.
Raske's Carrie Stevens Patterns feature
Carrie Stevens Patterns, II, organized by Wes Autio
Carrie Stevens Originals, scans donated by Mike Martinek, Jr.
More content from the front page