Published Nov 6. 2010 - 12 years ago
Updated or edited Aug 5. 2021
Zoo Cougar
Kelly Galloup's Zoo Cougar is a pattern with some years on its back, but Martin recently discovered and started tying this staple big trout streamer. Large fly, goudy colors, deer hair! Just his kind of fly.
I bumped into this pattern while randomly traversing the web for odds and ends in fly fishing, which is thing I rarely do to be honest. I prefer adding material to GFF rather than find other people's stuff to peruse.
Well, I digress...
But suddenly it was there! A pile of really nice looking, juicy streamers with lots of volume and in great colors. The article was about streamers as such, but mentioned the name of the fly, and it didn't take much research to establish it as a Kelly Galloup pattern.
Michigan based Galloup is probably best known for his streamers and his streamer fishing style. He has written the book "Modern Streamers for Trophy Trout" together with Bob Linsenman and made the DVD on the same subject "Streamer Flies for Trophy Trout" on which he actually ties the Zoo Cougar. I haven't seen the DVD, but it might be worth considering according to Bob Petti's review here on GFF.
Chasing the Cougar
Well, I set out to find the materials and a tying description. This looked like a really interesting pattern, and definitely something I could use for my everyday fishing for sea run browns. I have the Galloup and Linsenman book in my shelf, and quickly found a list of materials as well as some illustrations.
By searching the web, I soon found out that the Zoo Cougar is Galoup's most famous pattern, and there were plenty sources listing materials and showing tying sequences.
But why not go to the source itself? Kelly Galloup actually shows exactly how to tie this fly in this online video, and as you can see his style is very pragmatic and the fly is large and fluffy, rough but elegant and reeks of large fish.
And it uses deer hair!
Just my kind of fly!
This is Kelly Galloup himself tying the fly and telling a bit about the principle of large flies for big trout.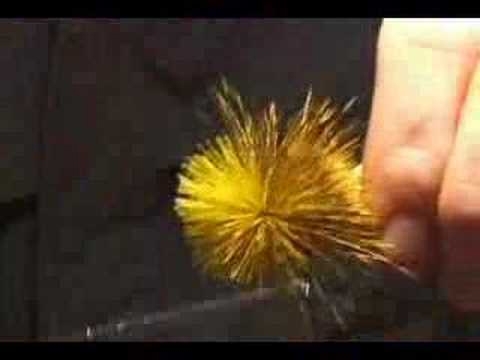 Great colors
I adore the original colors of the fly. Yellow, but mellow. A nice sulphur color deer hair and a dyed mallard flank feather also in yellow. The fly looks very nice and bright, but Galloup's fly box, which is seen on one of the videos on the web contains large streamers ranging from pure white to almost totally black.
I thought that my take on the Zoo Cougar would be more brownish, more like the large muddlers I usually tie and much more in sync with the materials I already have, which are predominantly undyed, and in natural colors. It didn't take me long to dig out materials for both a brown/black and, but during my rummage in the drawers and boxes I also found materials for an olive version of the fly.
Some of the material lists on the web as well as Linsenman and Galloup's 1999 book mention a body, but to my great relief Galloup skips that and ties the fly with a marabou tail, a calf hair underwing, a mallard flank wing and a large, loose deer hair collar and head. No body!
Large fly
The fly is large. It seems that 4's, 2's and even 1/0 hooks could be used. In my own version I dug out a size 4 Kamasam B800 long shank streamer hook. Plenty large for my use, and a hook that I really like.
My first take on the fly came out promising enough. It's not a difficult fly to tie, and it seems that given the right materials, the thing falls out nicely. Critical is of course the single mallard feather as well as the deer hair. Getting good deer hair for spinning has always been something that I have emphasized to people who want to tie muddler like patterns. Get the best and save yourself a lot of frustration.
The same goes for the mallard. I have been wise enough back when I got myself bags full of mallard and woodduck to go through it all, strip off all the fluff and sort the feathers according to shape and size and stuff them into smaller bags. That means that I can dig out feathers of an appropriate size and shape without going through dozens and dozens of useless ones.
The mallard feather for this fly needs to be fairly large, as long fibered as possible and of the "fan shape" with barbs radiating from a short stem rather than an ordinary feather with parallel barbs on a long stem. This will ease the shaping of a narrow wing consisting of almost even barbs.
You can see more Galloup flies, buy them and see reports from the fly's "home waters" The Madison here.
More content from the front page