Published Dec 16. 2005 - 16 years ago
Updated or edited Oct 27. 2021
Lamiglas
This past season, I had the pleasure of fishing rods built from two blanks from Lamiglas, the XMG50 and the "Blue Ridge". These two blanks are Ying and Yang, fast and slow, high modulus graphite and fiberglass. As different as can be.
GFF Rating: 5
Excellent
XMG50 9et 4wt 2pc
MSRP $130.00 (blank only)
Blue Ridge 7ft 3wt 3pc
MSRP $100.00 (blank only)
www.lamiglas.com
This past season, I had the pleasure of fishing rods built from two blanks from Lamiglas, the XMG50 and the "Blue Ridge". While this season can be referred to as "the season that wasn't", I still had the chance to get out often enough to run these rods through their paces on a couple Catskill trout streams.

XMG50 9ft 4wt 2pc

The XMG50 is a high modulus graphite blank which Lamiglas uses in their "Espirit" fly rods. The product information describes these as powerful fast-action rods, and my fishing experiences this year certainly supports that claim. The 4wt has a very strong butt section, with most of the flex in the rod being in the top quarter of the blank section near the tip. It's a real cannon on the lawn, that's for sure. It's much faster than any other rod I have in my quiver. I wasn't sure how I was going to like it when I went out fishing.




What I found on the water surprised me. Yes, it is a very powerful blank, but it's also very "controlled". It's a hard thing to describe in words, but the tip recovers so fast that I felt I was generating line speed with very little effort on my part, which allowed me to hit my targets near and far without struggling like I've done with other rods. I could easily cast tight loops with high speed, and it felt like that proverbial "laser beam cast" where you stare at the spot and the line shoots straight to that spot.
I'm sure you've heard over and over again about popping tippets with fast action rods. Some folks get so worked up about it that they seem to think it is all but impossible to set the hook on a fish without breaking off. I had heard that myself, so often in fact that I was a bit nervous that I would find the same with this rod and wouldn't be able to give it a positive review as a result. One experience in particular proved to me that this is just another one of those myths that seem to fall apart under close inspection.

I was fishing Horse Brook Run on the Beaverkill in late May. Anyone who knows this rivers understands that this section is heavy water - a strong current pushing over and around countless rocks and boulders of all sizes creating lots of holding spots for the resident browns. There wasn't much on the water that day, and I was prospecting with one of my favorite searching dry flies, fishing the fly downstream so it would drift around the boulders and drop into the pockets. As the fly dropped into one pocket, a large head came up and sucked it down.

I reared back in surprise, and was fast to a good sized Beaverkill brown trout. As soon as it felt the hook, it ran into the heavy current and went screaming off downstream. Being deep in the water myself, it wasn't as if I could chase after it at a full run, so I stood my ground and slugged it out. After awhile, I was able to slide my net under the fish and admire one of Beaverkill's finest. It wasn't until after I released the fish that I remembered what rod I was fishing, and I had to chuckle about all this "break off" talk. Maybe it was luck, but I figured if I didn't pop the tippet on that guy with such a surprised reaction, then I was ok.

Unlike some other recent Lamiglas offerings, the butt section of the rod wasn't quite as large diameter as others, so I had no trouble finding a reel seat to fit the blank. What it does have in common with these other blanks, however, is the "light in the hand" feel. Todd Vivian, Lamiglas's chief rod designer, has found the magic key to building powerful blanks without the tip heaviness that some have (and which I hate more than anything on a rod). If you spend most of a day holding a rod out from your body while drifting nymphs, you will certainly appreciate that "tip lightness". While the XMG50 I used was marked as a 4 weight, I would recommend bumping to a 5wt if you're not making long casts on a continual basis. I felt I could feel a 5wt line a little better on the rod, but that could just be due to my inexperience with these fast "tip action" rods. When I was casting a long line with my WF4F, it felt terrific (and a bit shocking at how much line I could carry in the air with control). The XMG50 a big water rod, and will most definitely be my nymphing rod of choice for future seasons.

Blue Ridge 7ft 3wt 3pc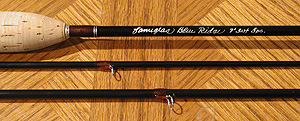 The "Blue Ridge" is about as far away from the XMG50 on the rod action scale as you can have. The "Blue Ridge" blanks are one evolutionary step up from a pure fiberglass blank in that the blanks are actually comprised of three different material composites - the butt is graphite, the mid section is a graphite/glass bend, and the tip is glass. This makes for a rod that has the smooth and softer action of glass, but with the added butt stability and light weight of graphite. It truly is the best of both worlds.
I used this rod a few times on the upper Willowemoc Creek, fishing for some of the wild local brookies and browns. What a delightful rod! The graphite butt removes any of that "tale wagging the dog" feel that some glass blanks have, but the slow action and soft tip gives you that special feeling where you can comfortable cast just a couple feet of line and the leader. For small stream work, it is absolutely fantastic.

The blank is a rich glossy jet black, and the graphite material in the blend allowed Todd to design a blank that does not have a large diameter butt section like many glass blanks. I used an off-the-shelf Bob Venneri reel seat for this rod, and it fit perfectly. With a set of single foot snake guides, the rod is light weight, but has just a hint of heft to give it a very classic feel. For you guys who like short rods and light lines, you will really like this one.

For those of you who are curious about slower action rods, but are not sure about using a pure glass or even bamboo, this will be just the ticket.
More content from the front page