Published Jan 1. 2002 - 21 years ago
Updated or edited Mar 14. 2016
Turbo Block
Siman Ltd. has taken the Turbo dubbing twister a step further with this tool, which enables you to easily make your own dubbing brushes - stiff or soft and from almost any dubbing material.
GFF Rating: 5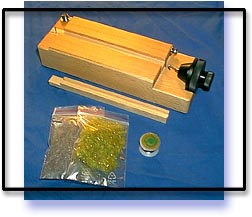 The block comes with two exchangable wooden rails for placing the dubbing, a couple of bags of ready mixed dubbing, wire and a page with instructions in English.
This dubbing block made by Czech Jan Siman will help you make consistent dubbing brushes in almost any material. It is a simple yet fairly advanced tool made from durable materials and will probably last you a lifetime.
I have been fascinated with dubbing loops since I was first introduced to the phenomenon many years ago. It is an easy, versatile and durable way of applying dubbing to a fly. Many of my patterns incorporate dubbing loops of different kinds. I used to use a traditional twister, but converted to a Siman Turbo Twister the first time I saw it. I do most of my dubbing loops directly on the fly and use tying thread for the purpose. I have also experimented with copper wire and the making og premade brushes. And on top of that I have had access to a huge selection of Siman Ltd. dubbing brushes and used them for all kinds of flies.
The same Siman - Jan Siman from the Czech Republic - now also markets a block with a wheel to help you make your own brushes. It is a sturdy and practical tool made from a solid block of beech wood and fitted with a spinning wheel on a bearing. Through a simple process you can now make your own brushes with almost any dubbing material you might choose. The method is described in English on a sheet of paper that comes with the block.
I made the first brush within 10 minutes after I got the block, using the materials included in the kit: two bags of premade dubbing mix and some stainless wire. The process is fast and easy, and after a bit of practise you can fabricate a dozen brushes in 15 minutes.
Choose wire for the stiff brushes and tying thread for the soft ones. By using three threads and counterspinning one you can get the soft threads to hold materials such as CDC or marabou. You can also use more traditional materials like squirrel and rabbit or go far beyond that with deer hair clippings, rubber legs cut in bits and what your imagination might challenge you to try.
When you use the normal wooden rail, you get brushes with a diamater of approx. 3-4 millimeters. The narrow one will give you brushes of about 2 millimeters. Arranging the material can be everything from easy to tedious depending on the mix. you can also use the block to spin wire ribs - with no materials - or do complex mixed threads with floss, tinsels and other wires and threads. The possibilities are numerous.
The result is pleasing and professional looking almost no matter what you do. Some of the brushes come out slightly uneven, but once you wind them on a hook they look very much like the store bought thing.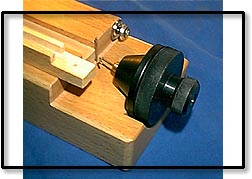 The spinning wheel is mounted in line with the groove for the material and runs on a bearing. Clips are placed close to the wheel and on the other end of the block to easily fasten the wire while arranging the dubbing.
The block is widely available and costs approx. US$ 50.-. Jan Siman has local dealers and distributors all over the World and the block will be in Orvis' selection of tying tools. If you can't find it, it can be sent driectly from Siman Ltd. for an extra cost of US$ 10.-. Go to Siman's web site and click on distributors and dealers for further information.
More content from the front page