Published Oct 10. 2002 - 20 years ago
Updated or edited Nov 2. 2016
DIY Rod Tubes
You have one extra rod with no sock and rod tube. You've been putting off buying a tube...why don't you just make your own?! With $4.00 and about a 1/2 hour's time, you'll have a DIY rod tube. These won't win beauty contests, but they work just as well as any retail version. Read here how to DIY.
DIY Rod Tubes
They're not pretty, but they sure do work!
From time-to-time, somewhere down the line, you'll need a rod tube because of that one rogue rod without a sock and without a tube. But you've stalled on buying a rod tube becuase they are so darned expensive. The solution is to make your own! In under a half hour, you can fabricate a dozen or so tubes if you need that many. It's that easy!
And the price is right too.
The materials
The materials required are minimal and the investment is small. You'll need:
A china marker
A rag
A fine-toothed, small kerfed pipe or hand saw
PVC Primer and Cement
PVC piping, schedule 40 works fine
1 closed endcap
1 open female-threaded endcap
1 male-threaded end plug
A simple cost breakdown reveals an appealing price to this Do-It-Yourself project. For a 3-foot rod tube, my costs were:
PVC pipe: $0.238 per foot: $0.71
3'x1' flannel cloth for rod sock: $0.25
Closed end cap: $1.49
Threaded end cap: $0.98
Threaded end plug: $0.57
glue and tools: negligable cost
TOTAL COST FOR A 3-FOOT TUBE and sock cloth: $4.00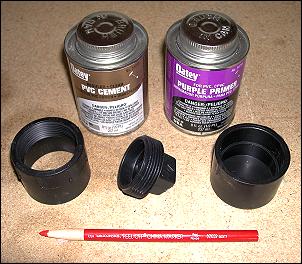 The upfront material costs are minimal, and the material itself is easy to find. (L to R middle row: open female-threaded endcap, male-threaded end plug, closed endcap.
Getting started
Lay the PVC on a flat surface and measure your rod(s) against the PVC. Mark the cut point with a china marker. You can cut the PVC to the exact length of the rod as the end cap and threaded cap add about a 1/2" to the length, giving you an extra inch to play with.
After the PVC sections are cut to length, line them up and arrange all the required end pieces behind the tube in the order in which you will assemble: closed end cap, then the threaded end cap. You'll be glad you organized the parts because PVC cement dries very quickly, leaving you little time to shuffle around looking for the parts.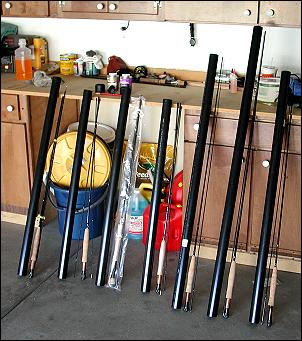 Lay out the pre-cut PVC and all parts prior to assembling. Be sure to work in a well ventilated areas such as a garage, as shown here.
Priming and cementing
Prior to assembling the parts, wipe them with a damp cloth to remove dust and shipping debris. This will aide in the priming and glueing steps. Also, be considerate of yourself and perform this step in a well ventilated area such as the back patio or your garage.
All PVC needs some priming to 'scuff' up the surface. This is done with a chemical PVC primer. Be careful as PVC primer will most assuredly drip where you don't want it...it stains and it is sticky. Pre-fit the pieces to get a feel where the PVC contact points are. Then prime just those areas on each PVC tube. BE sure to prime the tube and the inside of each fitting.
Apply the cement in the same fashion, coating both the PVC tube and the inside of the fitting with ample cement. Quickly assemble the fitting on the PVC tube and twist to ensure full coverage of the cement to all the glued surfaces. In just a few moments, the cement will set.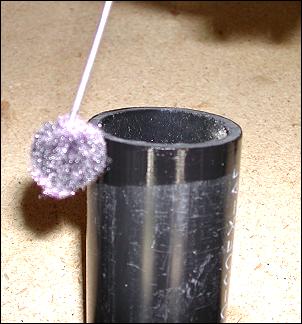 Be very careful with PVC primer...its runny and stains almost everything.
Once the tubes are assembled and glued, allow them an hour or so of curing time in a well ventilated area. It's not advisable to stick your rod in the newly glued tube...there just may be some cement that hasn't dried thoroughly.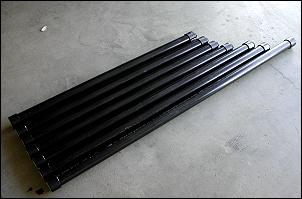 Making a few rod tubes can be done in under a half an hour and required no special tools.
The finishing touches
Although the picture to the right doesn't clearly show the markings, use a metallic permanent pen to label your rod tube with the contents.
Rod socks can be purchased from most any rod making supplier for around $5 to $10, depending on the material you choose. Or, to carry the theme of this article, make your own rod sock to your exact specifications.
Me personally, I like just a sheet of flannel the length of my rod and the width of a foot or so. I begin rolling in each rod segment in one at a time, like a wrapping a cigar. No stitching is required and the cost of the flannel is minimal at best.
Then, insert the rod-in-sock, tighten the cap and go to the stream in confidence that your rod is safely protected!
I actually needed a few rod tubes to mail some rods I had sold. After trying to find appropriate cardboard tubes of varying lengths, I decided to cost out making my own. In the end analysis, the cardboard tubes cost the same and in some cases more expensive for longer sections I needed. I then decided to make my own.
These DIY rod tubes aren't going to win any beauty or crafstmanship awards, but with just a sheet of flannel and some PVC they are just as functional as any on the market...at 1/10th the price.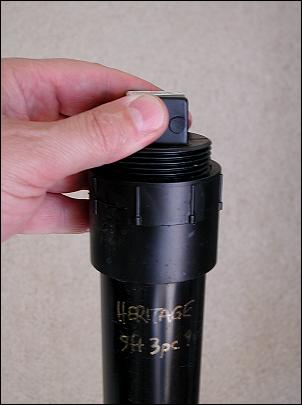 Mark your rod tube of the contents with a permanent ink marker.
More content from the front page