Published Oct 12. 2002 - 20 years ago
Updated or edited Jun 10. 2016
Bamboo part 1
Harry Boyd tells us "Since Hiram Leonard and the earliest days of fly fishing in our country, the allure of fine spilt bamboo rods has been part of the magic of our sport." Read Harry's introduction to his series of articles on building bamboo fly rods.
Part 1 - An Introduction
History

An "Otter Creek Special," my favorite 8 foot 5 weight rod for fishing big waters


The Flyfish@ 2000 Bahamas Giveaway Rod. Rick Fick built the blank for this rod, and I made that blank into a rod. It was given away as part of an effort to help raise money for kids in flyfishing.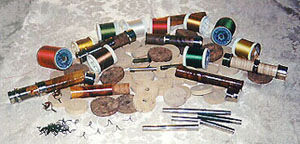 Only the best components for bamboo fly rods.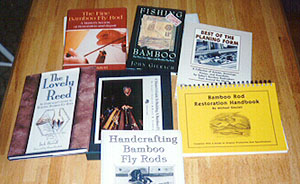 A wealth of books have been published and re-printed in recent years dealing with bamboo fly rods.


Split strips of bamboo taken from a culm.
Since Hiram Leonard and the earliest days of fly fishing in our country, the allure of fine spilt bamboo rods has been part of the magic of our sport. The natural beauty of a well-built cane rod speaks for itself. Fine bamboo rods tie one directly to the rhythm of water and nature in ways at which synthetic fibers only hint.
You don't have to be a sophisticated fly-fishing yuppie to get hooked on cane rods. Most people who enjoy bamboo rods enjoy the fishing as much as the catching. Often they own several types of rods, but come back to cane. They like to own it, and love to fish it. A fine bamboo rod pleases many of the senses: sight, smell, and certainly feel. Something about it just feels right.
-
Joe Loverti
http://www.caneflyrods.us
Some of you who read this series of articles will find yourselves building a quality cane fly rod. In this series of articles, I hope to show you the way I build rods. Rodmakers are a varied lot. Some make things as simple as possible, they do what works. Others approach rodmaking scientifically, from an engineering point of
view. I hope to show you a little bit of both approaches.
Making a bamboo rod requires 40-60 hours of hand labor, though your first rod will take longer. Don't let that time commitment scare you away. Most of the work can be done in increments of an hour at a time. Any investment of so much time demands that from start to finish, no shortcuts are taken. Tolerances are measured in thousandths of an inch!
Quality
Quality work demands that no compromises are made in materials. Only the finest nickel silver hardware and ferrules should be used on bamboo rods. Only select hardwoods should be used for reel seat fillers. Cork grips should be hand-formed from the finest cork on the market.
Only the finest, small diameter silks should be used to wrap hand-made hardened guides.
Not so long ago, tricks of the trade in making rods were kept close to the vest. Everett Garrison and Hoagy Carmichael changed that when they published "A Master's Guide to Building a Bamboo Fly Rod". My friend Wayne Cattanach learned rodmaking through trial and error, and brought this arcane art down to earth when he published "Handcrating a Bamboo Fly Rod". Today there are scores of website, articles and books dedicated to helping you build your first rod. In this series of articles I'll point you towards many of the most useful resources available.
Craftsmanship
A wise man once said "the hardest part of painting your house is opening the paint can," or getting started. Building a bamboo rod begins with gathering the necessary tools and components. From the over 1000 species of bamboo on earth, only one has all the qualities for making a great fly rod. Tonkin Cane, grown commercially in a small hillside region along the Sui River in China is the only material suitable for building bamboo rods. Charles H. Demarest, Inc. has imported cane for rodmakers for over 80 years. I get all my bamboo from the kind folks at Demarest.
Rodmaking bamboo comes in "culms" or sticks, twelve feet long and about two inches in diameter. Since it is a natural material, not all bamboo should be used. Often cane arrives from China with burn marks, leaf nodes, and "grower's marks" - a series of Chinese characters which identify the grower. These less than perfect culms can often still be used, but care must be taken to use only the best parts.
Once the bamboo is selected it is split into narrow strips. To make a two piece rod with two tips requires 18 narrow strips. Each strip contains a number of nodes, which must be flattened, smoothed, and straightened. Each
strip is then hand planed into a 60* triangle and heat treated to give the bamboo even more resiliency. Finally a taper is planed into each strip, and the strips are glued together forming a rod section. Once the hardware is installed and the rod is varnished, you have a treasure to enjoy for years to come.
More content from the front page