Published Dec 10. 1999 - 23 years ago
Updated or edited Dec 9. 2016
Dave Lewis, USA
Late Dave Lewis was a master rod builder. We still host a few of his online articles.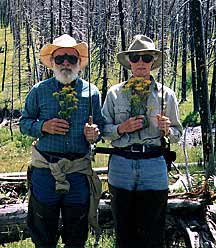 Dave and Mary Lu Lewis of (and with) Performance Fly Rods
---
Dave Lewis passed away spring 2009 and will be missed in the fly fishing community. We're thankful to have published some of his writings and to be able to show some of his beautiful rods.
---
Dave and Mary Lu Lewis and their two Maine Coon cats live in the Shenandoah Valley of Virginia where he operates his rod shop and sells his Performance Fly Rods. During the four summer months they reside in their summer home near West Yellowstone, Montana. Dave has been building fly rods since he was a kid back in the 50's. After beginning to sell a few rods in the 80's he finally decided to give up his teaching job and go into full time rod building in 1987. They market their fly rods through the several fly shows they attend and through mail order and the Internet. As you can tell fly fishing and rod building have become a life style for the Lewis's.
Dave Lewis/Performance Fly Rods web site
A master's advice on rod building

More content from the front page