Published Mar 1. 2000 - 23 years ago
Updated or edited Mar 11. 2023
Streamer Video
Of the numerous videotapes available to aid and instruct the tyer in the various fly types, relatively few fall under the category of the streamer fly. For the streamer-fanatic, to have another tape available on the subject is a treat. Read Chris Del Plato's review of this new video by Mike Martinek.
GFF Rating: 5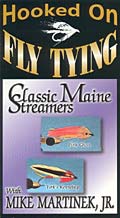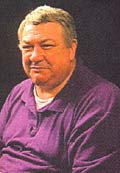 Date: March 2000
Mike Martinek, Jr.

Classic Maine Streamers

Produced by Bennett Watt Enterprises, Inc.

Price US$ 19.95
Available from Fly Fishing Video Magazine
or Mike Martinek, Jr.
3 Florence St.
Franklin, MA 02038
(508) 528-6640
Of the numerous videotapes available to aid and instruct the tyer in the various fly types, relatively few fall under the category of the streamer fly. For the streamer-fanatic, to have another tape available on the subject is a treat. To have one that can be considered a bona fide contribution to furthering and perpetuating the American streamer tradition is a true gem.

No one can be considered more of an expert in the area of the streamer fly than Mike Martinek Jr. of Franklin, MA, USA. Having been schooled by the likes of Austin Hogan, Mike's tying career has spanned some 30+ years - the majority spent specializing in tying classic New England streamers. Mike has recently done a set of four videos for the "Hooked on Fly Tying" series. All four are streamer-related. They cover a number of classic streamer patterns which include many smelt imitations, as well as one tape devoted to "New Age Saltwater Baitfish".
The video reviewed here, entitled "Classic Maine Streamers" is significant in that more than half its length concentrates on one of the most complex, beautiful and often mis-tied of the streamer genre - the Rangeley style. Developed by Mrs. Carrie G. Stevens of Upper Dam, Maine, the style is typified by its unique side mounted wings, which partially obscure the body of the streamer. Because of the mystique surrounding Mrs. Stevens' unorthodox tying style (she let virtually no one watch her tie throughout her career) this tape gives great insight into not only Carrie's methods, but also what can be considered the current 'state of the art' with respect to these flies.

The first of two flies Martinek ties on this tape is the Pink Ghost - a variation of Stevens' renowned Gray Ghost. Watching Mike construct one of these Rangeley style streamers is more than worth the 'price
of admission'. Whether one of Carrie's original techniques or his own 'wrinkle', he offers good explanation of, and reasons behind each step. The background information and historical references are a real plus and often neglected on similar instructional tapes.

However, it is in learning Mr. Martinek's modifications to the style that the tyer reaps the true value of this tape. His unique use of Schlappen as an inner-support or foundation behind the shoulder area of the wing has been highlighted in recent magazine articles. In addition, using Mike's methods will benefit the tyer in problem areas normally associated with tying these complex patterns, such as keeping bulk under control and setting the side-mounted wings. As Mike smirks at the viewer on the video, stating " we're ready for the thrilling conclusion and wing-setting sequence", it is obvious he knows that this critical juncture in the tying is the bane of those attempting to assemble Rangeley style streamers. As the fly comes together and we see Martinek's finished Pink Ghost, the viewer is left with a sense of awe. All the materials that go into the fly, properly proportioned and perfectly placed, with a small black head as a finish. After witnessing this, you'll undoubtedly cringe the next time you flip through a catalog and catch a glimpse of a 'commercial' Gray Ghost.

The second fly on the tape, the York's Kennebago, is another old Maine pattern tied expertly by Mike. This beauty has its wing mounted on top and a fairly complex body. As with the previous fly, you get a nice dose of history to go along with the instruction. If I had to offer some criticisms of the tape, I suppose there would be two. I would have liked Mike to go into a bit more detail on hackle selection for these streamers. Many could benefit from a better understanding of the properties that are desirable in the wing feathers. I also would have liked to see a third pattern tied. This really amounts to 'nit picking' though, as you surely get your money's worth in the lessons learned on the Pink Ghost.

At the risk of seeming to 'gloss over' the second pattern, I must reiterate my impression of the Rangeley portion of the tape. This tape is a 'must-have' for anyone serious about tying classic Rangeley style featherwings. While one could certainly tie these flies using more traditional methods, Mike Martinek's unique and innovative techniques yield a more consistent, durable and fishable Rangeley streamer. I can honestly say that the quality of my Rangeley flies took a quantum leap after tying a few while watching this video. I then reinforced the process with a few more, not long after. While certainly a difficult style of fly to master, once you are comfortable with the sequence and techniques, there should be no reason (other than lack of quality materials) that anyone couldn't produce top-notch Rangeley streamers. This tape would be a great addition to any tyer's video library, streamer-fanatic or not.

More content from the front page