Published Jan 22. 2002 - 21 years ago
Updated or edited Nov 4. 2016
Blend your own dubbing
Almost everyone has the right stuff at their tying bench to make a great batch of dubbing. But not many people know they have everything they need to make an outstanding seal's fur dubbing substitute. This dubbing is a viable replacement for SLF, angora goat and seal's fur, and the trick to making it is so simple it will amaze you!
That's right. Almost everyone has the right stuff at their tying bench to make a great batch of dubbing. But not many people know they have everything they need to make an outstanding seal's fur dubbing substitute. This dubbing is a viable replacement for SLF, angora goat and seal's fur, and the trick to making it is so simple it will amaze you! This article not only explains the process but also reviews the basic and a few seldom-taught dubbing techniques.
Making your own seal's fur substitute involves floss. That's it. Well, maybe a fine-toothed comb or velcro brush would help, but really your fingers and a 4" piece of silk or nylon 4-strand floss will make a dandy mass of seal's fur dubbing substitute ready for your atlantic salmon fly or steelhead patterns.
The Required Material & The Process
The process of making the seal fur sub dubbing is quick and easy and doesn't involve any specialized tools or materials. Plus, only one material is required: 4-strand nylon or silk floss, silk being the preference.
To start, cut a piece of 4-strand nylon or silk floss about 4" long. This amount will make about the right amount (with a little excess) of dubbing for a 1/0 salmon or steelhead fly body. Simply hold one end of the floss strands and begin to fray the entire length of the material. The objective is to separate all the micro-deniered fibers from their tightly spun state. A fine-toothed brush or comb or a velcro-tipped dubbing teaser works well for this task. Now pull apart small thumbprint sized sections of the material until the entire length is apportioned off into small oddly shaped piles of loose fibers.
DO NOT CUT THE MATERIAL. You'll want the un-uniformed look of ripping the material apart. Repeatedly combine all the piles and pull them apart to further mix and separate the fibers until it takes the form of SLF, angora or seal's fur dubbing. That's it. Your seal's fur substitute is done.
Desirable Qualities Of Silk Floss Dubbing
First and foremost, silk is color-fast. Raw silk accepts dyes readily and vibrantly displays them once dry. Secondly, silk dubbing is easy to control. You can dub a small, tight, size 20 body and turn right around and dub a bushy, overgrown size 8 woolly bugger. And the dimensions in-between are endless. Silk dubbing is translucent. Only a few materials in nature provide such translcency; seal, polar bear & kid goat to name a few. SLF has a similar translucency, but is man-made.
Blending Materials and Their Proportions
One major advantage to making your own silk floss dubbing is the control over consistency, color and content. For example, using your newly created seal's fur sub may be adequate as-is for atlantic salmon patterns, but may be too wimpy for steelhead bodies. Adding SLF, hare's ear or antron adds sparkle, bulk and texture to the dubbed body of a fly.
Some examples of silk dubbing composites I use:
Floss stand-alone = salmon patterns
1/4 Squirrel + 3/4 Floss = caddis body dubbing
1/2 Hare's Ear + 1/2 Floss = woolly bugger dubbing
1/4 Antron + 3/4 Floss = Medium density steelhead/atlantic salmon dubbing
1/4 SLF + 3/4 Floss = Heavy density steelhead/atlantic salmon dubbing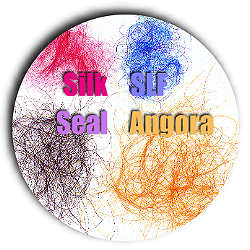 Comparing Seal, Silk, Angora & SLF
Seal tends to be the standard when comparing and contrasting dubbings for atlantic salmon and steelhead patterns. However, silk, SLF and angora posess high-end quality characteristics of seal's fur at a budget price. They all have a high colorfast quality; something very important to the salmonfly or steelhead tyer. Silk is easy to dub and holds vibrant colors well. SLF can be a challenge to dub as the fibers are thicker than natural furs. Angora can also be achallenge to dub as the fibers tend to be long and lanky. It makes sense to break the fibers in half to accomodate an easier dub. The following chart compares seal's fur and seal's fur substitute dubbings.
Dubbing
Colorfastness
Translucency
Length of Fibers
Fiber Thickness
Dubbing Ease
Availability
Price
Seal
+
high
variable
medium
moderate
difficult
high
Silk
+
medium
variable
fine
easy
available
medium
SLF
(std)
+
med/high
medium
medium/heavy
moderate/
challenging
plentiful
medium
Angora
(underfur)
+
high
long
fine/medium
easy/moderate
plentiful
low
Dubbing and Application Techniques
Try these methods with your silk dubbing.
Do the Twist
The most common method of dubbing is merely twisting on small amounts counter-clockwise on the thread until you build up an evenly-tapered dubbing noodle long enough to cover the hook shank. Most tying technique books go into great detail on how to do this if you are unfamiliar with the technique.
Wax on, Wax off
Another popular method is to use a dubbing wax (search the FF@ archives for extensive discussions of dubbing waxes). Simply apply a minute amount of wax to your tying thread, just enough to form a tacky surface in which to apply dubbing. This method works well for the beginner in aiding the application of dubbing. It also works well for creating bushy or full-bodied dubbed fly as the fibers of he dubbing material are held on he thread via the wax, allowing a more bushy outcome. Some threads come pre-waxed, but this is not the same as applying wax yourself. You cannot just tap a small amount of dubbing to the pre-waxed thread and expect it to stick there. The pre-waxed thread is helpful in twisting dubbing on and keeping it there. Personally, I tend to stay away from pre-waxed threads most of the time.
Loop-da-Loop
A dubbing loop has been a popular method of dubbing over the ages and has especially become more popular with the recent advent of stronger, thinner tying threads like Gel-Spun Poly, Danville's Flymaster, Kevlar and other various 8/0 - 14/0 threads.
To apply dubbing using a dubbing loop:
Step 1. Form a loop with your finger and bring the bobbin around the hook shank another turn.
Step 2. Lock the loop in by going around the base of the loop at the hook shank with the bobbin & thread.
Step 3. Use a dubbing loop tool, paper clip, hackle pliers, etc., to hold the loop end open.
Step 4. Prepare a hank of dubbing material about 1/2" wide and slightly shorter than the loop itself and place the hank inside the loop.
Step 5. Hold the loop near the bottom with your forefinger and thumb of one hand, then spin the dubbing spinner gently, letting it slow down and stop on its' own accord. Grasp the dubbing spinner to prevent it from unwinding and release your thumb and forefinger just above it while applying tension downward on the loop. The thread twists will work their way up the loop thusly trapping and spinning the dubbing hank within. Be careful not to over-twist the loop. You may break the thread under to much tension or create a dubbing rope versus a bushy dubbing loop. However, a dubbing rope is desirable for making segmented bodies on nymphs.
Step 6. Use a toothbrush or dubbing teaser to evenly work the dubbing around within the spun dubbing loop. Wrap the dubbing loop around the hook shank as you would a standard dubbed body.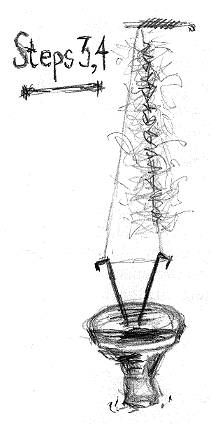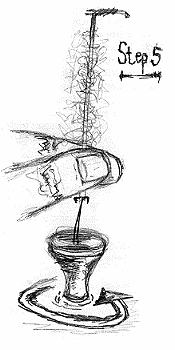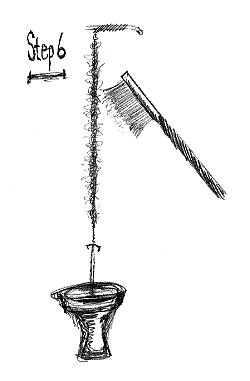 Split Ends
A technique that is little used and little taught but highly effective and one of my most favorites. To effectively split thread you need a very sharp bodkin needle. But before trying to poke your needle into the middle of some thread, it helps if you first spin the thread counter-clockwise to 'unwind' it and flatten it out. Once the thread has lost it's twist bias and is flat, you can as best as possible, split the thread in half with a very sharp needle point. Open the gap with your fingers and insert a pre-prepared swatch of dubbing. Now pull down your bobbin exposing an inch or two of twisted thread. With the forefinger and thumb of one hand, work the twists up the thread into the split section. This will evenly distribute the bias of the thread and trap the dubbing. You're now ready to dub on as usual.
Spit Balls
Still one of the most common methods of getting dubbing to behave is to just plain wet your fingers with saliva and twist the dubbing on the thread. I tend to avoid this however. Invariably, this will darken the dubbing with natural hand oils, dirt, saliva, etc. Do not do this with silk dubbing!
A-Brush-A-Dub
Wire brushes are the same as dubbing loops except fine wire takes the place of the thread. These can be made in advance since the wire does not want to unwind. The wire basis also makes for a nice shiny, segmented body when tied on the hook shank. There are special dubbing brush blocks specifically designed to help make the brushes, but just using your vice and an old hook will suffice. Treat it like any another dubbing loop. While there are countless other methods, mostly personal and variations on a theme, the methods portrayed above will get you through most tying situations.
More content from the front page