Published Jan 1. 2001 - 22 years ago
Updated or edited Mar 14. 2016
Toilet ring dubbing wax
Here's a quick and simple way to make your own dubbing wax if you don't have the patience or confidence to custom blend your own.
Here's a quick and simple way to make your own dubbing wax if you don't have the patience or confidence to custom blend your own.If you are more inclined to custom blend your own, see the detailed instructions in the article Making Your Own Dubbing Wax by Steve Williams.
This method is really quite simple and requires only a few simple tools.For under $2.00 you will have everything you'll need to make your own cannisters of dubbing wax that will last you a lifetime.I have found the wax ring used in sealing toilet bowls has the consistency of tying wax I prefer. It is pasty and tacky; perfect for most tying applications.To make your own containers of toilet-bowl tying wax you will need:
Kitchen tongs
An aluminum soda can
Metal shears or sturdy craft shears
Paper towels
A small sauce pan
Water
A toilet bowl wax sealing ring (any hardware will carry these; about $1.50)
Small containers with lids (Can buy them at American Science & Surplus)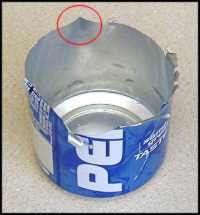 STEP 1.
Cut a soda can about 1 1/2 inches from the bottom.Pinch a pouring spout in the lip of the can with your fingers. (circled). Be very careful of the sharp jagged edges of the aluminum soda can.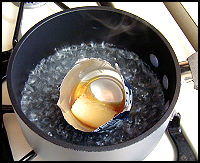 STEP 2.
Bring about 1" of water to a raging boil. Too much water will overflow the can and water will get into the melting wax.This is not desirable.
Cut a 2" section of the toilet bowl wax ring and place it in the aluminum can.Carefully place the aluminum can in the boiling water. The wax will begin melting right away.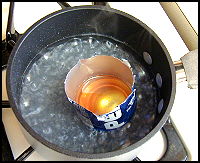 STEP 3.
Stir the wax with a toothpick or something similar until the wax has all melted.It will look golden brown like honey.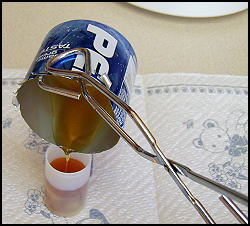 STEP 4.
Line up the dubbing wax containers on a piece of paper towel.The paper towel will prevent from making a nasty mess on your counter top if you miss the cannisters while pouring. Quickly and carefully pour the melted wax in each container. The can and wax will cool quickly.You may have to reheat the wax a time or two again.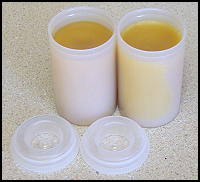 Film cannisters make for great dubbing wax containers, however, one film cannister will most likely last you literally a life-time.You'll get more than a dozen film cannisters full of dubbing wax from one toilet bowl wax ring, so consider gathering a few of your friends to share in on your dubbing wax creation.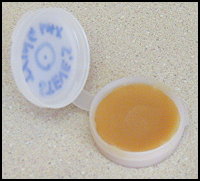 I found in a local Chicago-area odds-n-ends surplus store (American Science & Surplus) a few smaller containers about the same diameter of a film cannister. These make great dubbing wax containers.Consider pill containers or old liptsick tubes as well.You can see that I've even labelled my cannister "Steve's Tying Wax"!
A few words about American Science & Surplus. If you are looking for that weird container or small brass gidgy or a reddish black thingamabob, AS&S will most likely have it.As an example: I made a rod wrapping jig from 100% parts purchased at AS&S. They had tension adjusters, teflon thread guides, dowels, everything! Give them a call and ask them if they have what you are looking for.
PS - When site co-owner Martin Joergensen visited me last January (1999), I took him to this store. Just ask Martin, he was amazed at what you could find in this store! We spent over two hours there!
More content from the front page