Published Jun 1. 1995 - 22 years ago
Updated or edited Nov 24. 2016
Cod
This section is the manuscript for chapter in a book on fly fishing in salt water in Northern Europe. The subjects covered here are also covered elsewhere on this web site. There are links to all relevant pages.
Cod (Gadus morhua)
Cod and similar species are a much underrated quarry for the fly fisherman. In places where it's very common like Denmark and Norway, they are even sometimes considered an annoying disturbance in the much 'finer' fishing for sea trout.
But cod can be an excellent game for the fisher whose gear and mind is tuned in on it, and the abundance and size of fish can easily justify a more focused fishing for cod.
The reason for the cod's bad reputation is probably its lack of fighting power. And true; don't expect long runs and jumps from a cod, but don't expect that you can just drag in a cod of 3-4 kilos (6-8 lb.) either. It will give up a fight and make the experience worth remembering.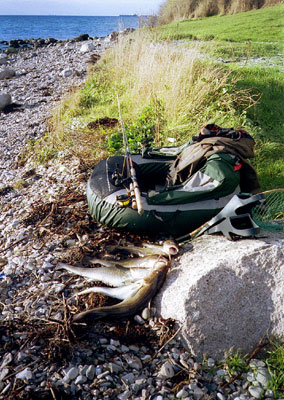 Cod is a very delicious fish to consume, and I always bring home some if they are plenty and big.
Cod is a fish that spends most of its time near the bottom. In many places cod are considered impossible to take on a fly rod, because of this fact. But there are two things to remember here: shallow water has a bottom too, and when dark falls, even cod will detach from the bottom and seek food in the surface.
Cod will feed on almost anything: from herring and sand eels to crabs and clam worms. The cod is not a great and fast hunter, but it's greedy and will keep on going for a prey.
When you see a cod, its tail and body size will reveal that it is not a good swimmer: neither in the short sprints nor on longer distances. But the large neck, head and mouth tells a story too: when a cod opens its mouth, it creates a surge that can pull in almost anything in front of it.
Tackle
Cod call for a heavier tackle than most other Northern European salt water fish. You will often need to cast a sinking line with a heavy fly and once you have a hookup, you will need the force to pull a large and bottom seeking fish to the surface.
An 8-9 wt. 9' rod - likely with a fairly slow action - with a sinking or sink tip line is a good choice if you want to take on larger fish in deeper water. If you fish from a boat or a float tube, you will need a fast sinking line, maybe of the Deep Water Express type. Shooting heads can be a good choice, not for the casting distance, but for the ease of casting the heavy line and fly.
The leader can be almost as short as you please. 2 meters is sufficient. These fish will not be put off by the sight of the line. The tippet should reflect the size of the flies and the fish. 0.25, 0.28 or even 0.30 (1X, 0X or even thicker) is a proper choice.
Flies
Cod feed on almost anything and are extremely opportunistic. They will take almost any sea trout fly, almost any traditional U.S. salt water pattern and in fact almost any hook with a colorful, flashing or moving material attached. In the traditional deep water fishing for cod, the fish often fall for large hooks drawn through a piece of red or orange plastic tube.
The flies should be fairly large - 2-5/0 - and heavy. Lighter flies or flies with floating materials should be weighted with lead, dumbbell eyes or bead chain eyes.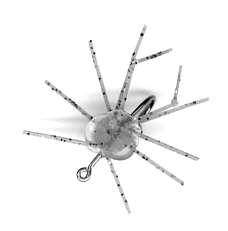 The Femmer Crab - a fine cod pattern.
Dressing a large gap hook with a layer of lead and a large tuft of red or orange marabou will yield an excellent cod fly. Crab flies are a good alternative as many cod are filled with small crabs.
If you want to try fishing for smaller surface active fish at night, use traditional sea trout night flies such as muddlers. These will also be likely to attract a sea trout now and then.
Dressing special or sophisticated flies for cod can generally be considered as something done for the sake of the fisher more than the fish.
Tactics
Cod can be caught all year round. They will stay in the deeper parts of the ocean in the extremely cold and warm parts of the year, but still be reachable most of the year. The best time for the fly fisher is from the early spring to the early summer and then again in the autumn. In the warm part of summer you can often experience smaller cod feeding frantically in the surface at night. They take a surface fly with great enthusiasm.
The best fly fishing is found in depths of at least 3-4 meters (9-12') and even deeper so fishing from a boat or float tube can greatly enhance you productivity. But fishing from the coast - especially rocky coasts with deep water close to land - will often put you into very good cod fishing.
Except for the night fishing for surface active fish, the safest way to get a cod is to fish close to or even on the bottom. This calls for two things: sinking flies and line and a bottom that has few rocks and little sea weed.
It seems that touching the bottom itself, stirring up material and making noise, is a key factor in attracting fish. A very slow, jerky retrieve directly on a sandy or muddy bottom is lethal if there are fish in the area. Faster retrieves over the bottom or in the free water masses typically seem to attract smaller and more agile fish.
Cod are very clumsy hunters, and you will experience that the same or several fish attack your fly many times before getting hooked. Have patience. If a hookup fails, just let the fly sink and then give it a small jerk. That is likely to stimulate another strike.
Cod will often school, and this means that once you find the fish, you should consider fishing the exact same spot, because it's likely to hold more fish.
Once hooked The cod will immediately seek towards the bottom with a surprising strength. On sandy bottoms this offers no trouble, but on rocky and weedy bottoms the fish will often get stuck or tangled if they are allowed to reach the bottom. When fishing from a boat it's fairly easy to hold the fish off the bottom, but if you are wading, you need to put a lot of vertical pressure on the fish. Once near or in the surface that cod will live up to its bad reputation as a bad fighter and seem to completely loose the urge to live. It might make a faint try or two, but normally you can land even large fish by grabbing them over the neck just behind the gills.
Seasons
Cod can be caught all year round, but some parts of the year are better than others for fly fishing. The winter, where cod are traditionally caught on large lure over deeper water, is not ideal for the fly fisher. The fish will stay deep and be slow. But as soon as the sun warms a bit, the fish will become active, and even though the water is close to the freezing point, there can be activity on sunny days. Spring is an excellent time for cod fishing both from a boat and from the coast, but once the water gets warmer, it's necessary to move out over deeper water in the daytime. At night the fish will be very active in the shallow water, and surface fishing near the coast can be very productive.
Later in the season in the autumn the fish will once again be active all day, but once the water gets colder, the cod will loose it's hunger and be more passive.