Published Aug 28. 2005 - 12 years ago
Updated or edited Jan 27. 2016
Theft!
Other websites steal GFF content!
Update [August 29th 2005]. Just to set things straight: I did get an email from the Tri-State webmaster telling me that the page had been submitted by a reader and that he had no idea it was ours. He would take it down ASAP (which has not happened yet BTW). That seems to solve this instance - apart from the fact that it didn't require a genius to see that the page was a copy, since it has http://globalflyfisher.com/ in every single link and even draws the images from our server. Well never mind...
Some people really haven't grasped the whole idea of the web. One such person is the webmaster of the Tri-State Sportsmen homepage. No you will get no link! I don't link to the sites of people who can't see the difference between what's ours and what's theirs.
The thing is that this web site has a Featured Fly. very nice concept with a new pattern now and then. Only problem is, that their featured fly isn't theirs! It's ours - or rather Kasper Mühlbach's. "Their" article Epoxy Miracle is bit-by-bit exactly the same as ours because they have simply copied the HTML-code from our page and pasted it into their own. The links still point to GFF!
Since I (or Kasper for that matter) have never had any contact with the webmaster of this site, I guess he just forgot to ask permission. There might be a reason for that, because he would not have gotten it! It's a firm policy of ours that we do not distribute our content as is. You can copy for a club newsletter, you can translate and you can borrow from us. But only after getting the permission and only for non-commercial purposes. We spend a lot of time and other resources building GFF, and expect some respect for our copyright.
Of course I have contacted the webmaster. I posted my name and a notice on their contact form several times, but to no avail. Nobody has returned to me. Of course there is no other contact information on the page, so a direct email is unavailable.
This is not the first time somebody has copied our material. We have a lot of good stuff on our site, and the temptation seems to become just too much sometimes. Usually we get immediate apologies if we contact people, but not rarely have we been treated like we just landed from out of space and had no idea what we were talking about.
Let's just say this one more time: Just because something has been posted on the web for everyone to grab, doesn't mean that you're allowed to do so. Every single bit of GFF (and all other websites) is protected by copyright laws and the sole property of the originator. And it doesn't have to say so on the page or on the site. It's a fact no matter what.
You can read more on our copyright page and our general permission page.
This is how it looks. I provide the picture as evidence and because the Tri-state site not exactly excels in easy navigation, so the article can be a bit difficult to find.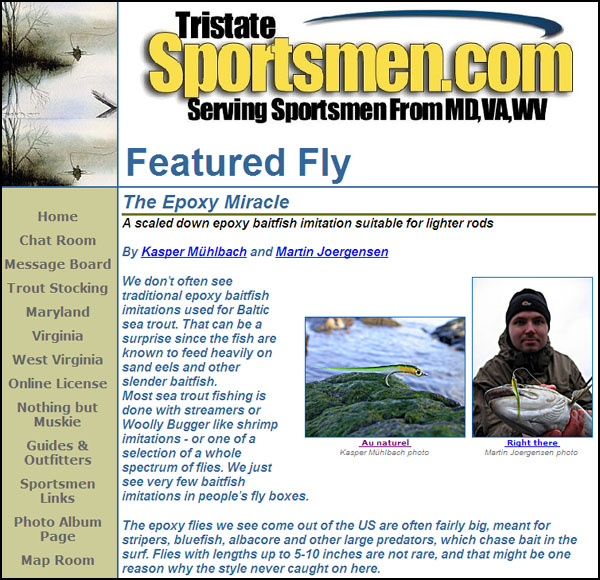 Tri-state webmaster: if you read this, contact me! I'm on martin@globalflyfisher.com.