Simply the Best Place to go for Online Fly Fishing and Fly Tying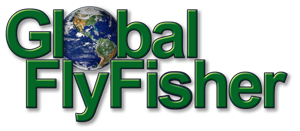 Published Nov 11. 2003 - 14 years ago
Updated or edited Nov 17. 2015
So this is Xmas..?!
It's unbelievable! The season is almost coming to an end...
It happens every year, and still it surprises me. Yesterday I was fishing, and looking at the weather report today tells me that it might very well be one of the last days this year. Fair days will be few and far apart the coming time, and the cabin feaver season is getting closer.
Christmas also happens every year, and still it takes me by surprise just the same. Colorful brochures are piling up, commercials tell me to do my Christmas shopping early and shops are starting to decorate their windows for the holiday.
I hate it! Honestly... Not Christmas as such, but the commercialism sourrounding it. I love having the family over, love exchanging presents and love the varmth of the season. But not in November, phuleeeeze! My Christmas mood sets in late December and usually lasts a week or so.
Well, unfortunately there's little to do about either; the end of the fishing season and the beginning of the Christmas ditto. I'll just have to lay low, spend less time by the water and more time creating new stuff for GFF.
I have soooo many plans but time just doesn't seem to run my way. I prefer to stand in cold water much more than sitting by my desk, and I actally almost lost a customer because I was fishing when he tried to reach me a couple of days ago.
The story reminded me of Digital Reseach's Gary Killdal who was out flying his private plane when IBM visited to look for an operating system for their brand new idea: the IBM Personal Computer. Killdal had CP/M ready to run, but he wasn't there.
When the IBM'er visited Bill Gates he had nothing, but he was in. He since bought QDOS (Quick and Dirty Operating System) from Tim Paterson for almost nothing, renamed it to MS-DOS and was in business. But that's a whole other story...
It seems that I saved my relation to my customer - and by being quite honest too. I told him that when he buys me he gets what he sees: a fisherman who goes fishing when he feels like it and the weather permits. I'm a programming flyfisher, not a programmer who fly fishes in his spare time.
I must do something right, because it seems like he will use me in spite of that fact.
And as fishing season is dwindling after all, there will now be a couple of months or three where he can draw heavily on me. No business opportunity for chairman Gates this time.