Published May 22. 2007 - 11 years ago
Updated or edited Sep 30. 2015
The man
Running along the beach in pursuit of roosterfish - the new DVD Running Down The Man from Felt Soul Media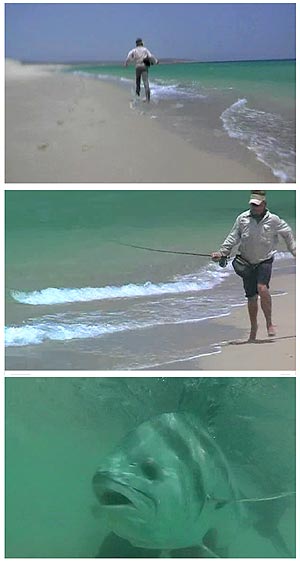 When The Hatch came out from Felt Soul Media I was truly thrilled by it. It was another one of those border-breaking fishing videos that has marked a definite change in how fishing videos can be made over the last few years. A different cinematographic language and something completely different from Jim and Kelly (with all due respect), Gary Borger (ditto) or Mel Krieger (ditto).
Travis Rummel and his companions from Felt Soul Media have been at it again, and my 25 dollar order for this DVD has been fired off already. Running Down The Man seems to be another of these crazy, fast paced (literally) adventures. This time we're on the Baja or down south California chasing roosterfish. The trailer promises another breathtaking experience, which I am already looking forward to.
I may even find the time to review The Hatch - plus a few other DVD's I have laying around now.
The images to the right are snapped from the trailer that Felt Soul Media has available on their web page.
Since you got this far …
… I have a small favor to ask.
Long story short
Support the Global FlyFisher through Patreon or Ko-fi. Both offer PayPal payments.
Long story longer
The Global FlyFisher has been online since the mid-90's and has been free to access for everybody since day one – and will stay free for as long as I run it.
But that doesn't mean that it's free to run.
It costs money to drive a large site like this.
See more details about what you can do to help in this blog post.