Published Jan 27. 2000 - 18 years ago
Updated or edited Nov 4. 2016
Atlantic Salmon Handbook
Although this book is riddled with errors it does convey the basic information that a beginning Atlantic salmon fisher would need.
About the Author
GFF Rating: 3
I am always interested in the authors of books and where they are coming from. In most books you will find a lengthy "build up" of the author to kind of set the stage of what to expect as far a expertise on the subject. I was quite surprised and disappointed however, that the only real info you get on Mr. Bodo is that he has written a number of tennis books and has been a columnist for Tennis Magazine. He is also a principle writer of the outdoor column for the New York Times. This is definitely notable, but tennis and salmon angling? I have a hard time finding the correlation.
The Foreword
This is usually a section written to pump up the contents of the book and I would give a fair guess that most people browse through the typical Foreword and carry on. In the case of The Atlantic Salmon Handbook I would contend that the Foreword is well worth the cost of the book. Written by Dr. Wilfred M. Carter, one of the founding fathers of the Atlantic Salmon Federation (or International Atlantic Salmon Federation as it was then known) is a great opening for this book. His humorous account of being caught as a boy poaching in a private pool on the Restigouche River is priceless; I have read it many times over. If I were to rank the book from the Foreword, I would give it a GFF rating of 6. Upon completing the Foreword I was expecting the rest of the book to contain the same entertainment value, it didn't.
Gear Advise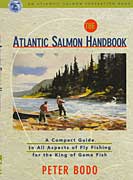 This section of the book is very well covered with explanations of just about everything you can imagine when getting ready to hit the riverbank. I thought his piece on Lines and Leaders was to the point and very well covered. Dressing for the occasion also is extremely important and well described by Bodo. Early Spring and late Fall angling in New Brunswick can be very unpredictable. I have stood in the falling snow casting line after line during both seasons. You definitely want to have the attire to accommodate the ever-changing weather of the region.
Hey, what fly are you using?
The Atlantic Salmon Handbook covers a few of the important fly patterns an individual should not be without. For the most part, I agree with Bodo's selection of "gotta have" flies in the box. One fly that he left out was the Ally's Shrimp that I don't think any box should be without. Originated by Alister Gowan's of Scotland (not England as stated by Dick Talleur in Pretty and Practical Salmon Flies), this is my number one fly. I would be surprised if there is a salmon river in the entire World that this fly is not effective on. The omission of this fly in Bodo's collection is definitely a loss to the reader. He does have some of my other favorites though, the Green Machine and Black Bear Green Butt. These flies, and their variations, should not be left out of any fly box. Especially when angling in New Brunswick, Canada.
Oops...
While I was reading through this book I was a bit taken by some of the erroneous statements I would find on pretty common knowledge salmon angling issues. At times I would refer to another of my many angling books to see if I had missed something. One the most ridiculous of these mistakes is found when reading about releasing fish. The statement in the book, "Beaching is an easy way to land a salmon, but should only be practiced on one you intend to release". What? This is an obvious oversight that I would guess was done during typesetting. Unfortunately, this book is being billed as a great "tool" for the beginner. Beaching a salmon is absolutely not the way you should land a salmon that you intend to release. There is no doubt in my mind that everyone who read this line in the book took a double take.
Another interesting comment refers to my favorite salmon angling river, the Kedgwick, a tributary of the Restigouche River. "Now the Kedgwick, a tributary much farther up the Restigouche, gets MSW fish almost exclusively- including some the largest salmon in the entire river system." Well, the later is true, there are some "monsters" that come up the river, but that the river gets "MSW fish almost exclusively", I not too sure about that. Standing in the tower looking over my favorite pool on this river would suggest that a heck of a lot of smolt and grilse are in the system. There are times while standing at the head of the pool that a "cloud" of these younger salmo's pass by.
Is the book all that bad?
Actually, after reading though the book for the second time, I got over the things I saw as mistakes. Bodo is an excellent writer and has the ability to keep the readers interest during discussions that most authors would put you to sleep on. He has an interesting sense of humor and I had occasions that I laughed out-loud. He refers to Atlantic salmon as the "fish of a thousand casts" and comments on times that the "only jerk was at the wrong end of the line". I don't believe that this has been better relayed by any other salmon-angling author.
Bodo also covers a technique called the "Portland Hitch" or "Riffling Hitch" in a few paragraphs better describing the technique than another book that was specifically dedicated to the concept. It is filled with drawings and diagrams to aid the reader's understanding of knots and connections. The drawings of some of his favorite pools such as the pool drawing on page 82 of the Maclennan Lodge Home Pool on the Upsalquitch River causes me to daze off into a daydream about my favorite fishing spot. I enjoy a book that gets me back onto the river even if the temperature outside is -10.
In conclusion...
The Atlantic Salmon Handbook is an average book when you consider the lack of other text on the subject. Although it is riddled with errors it does convey the basic information that a beginner would need to get his gear together and would give him a good idea of what some of the better salmon angling rivers are in North America. Unfortunately, I find that the book doesn't go beyond that. I would stay away from the back of the book that outlines the Provinces and their laws and license fees. These things change from season to season and have no place in a book that is supposed to have an extended shelf life. Also, in less than a year the laws regarding salmon angling in Maine have completely changed and are already outdated in the book. Given a choice, I would try to find a reprint of Charles Phair's book "Atlantic Salmon Fishing". I have both of these books and I would refer to the 1937 Phair book before this one.
Peter Bodo
Atlantic Salmon Handbook
The Lyons Press, November 1997
ISBN: 1558215107
Size: Hardcover - 120 pages
Dimensions (in inches): 0.97 x 10.24 x 7.30
Price: approx. US$25.-
** Book is free from the Atlantic Salmon Federation by joining as a $40 Canadian funds (Approx. $25 US) member. They also give you a subscription to the Atlantic Salmon Journal, a hat, pin, and window sticker. How much is left for conservation?? Anyway, it is a good cause.
Since you got this far …
… I have a small favor to ask.
Long story short
Support the Global FlyFisher through Patreon or Ko-fi. Both offer PayPal payments.
Long story longer
The Global FlyFisher has been online since the mid-90's and has been free to access for everybody since day one – and will stay free for as long as I run it.
But that doesn't mean that it's free to run.
It costs money to drive a large site like this.
See more details about what you can do to help in this blog post.