Published Nov 7. 2005 - 12 years ago
Updated or edited Jan 21. 2016
Mini Streamers
How small can you tie a streamer and still call it a streamer? The folks on the streamers@ mailing list decided to challenge themselves to a swap of streamers no larger than a size 12. The results were move interesting.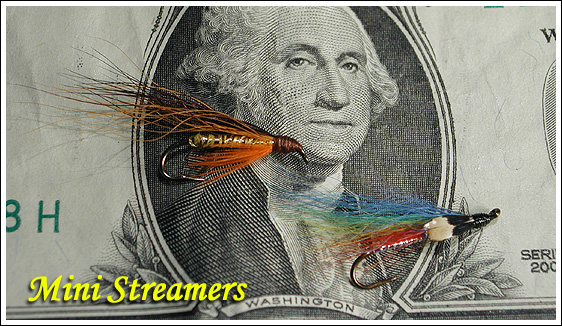 In January of 2003, the members of the New England Streamers list were discussing Gaelic Supreme streamer hooks. Specifically their Rangely Streamer hooks and soon the topic wandered over to their mini-streamer hooks. The discussion stressed that mini-streamers were practical in that they can imitate fry patterns. One member (Deryn) mentioned the possibility of a mini-streamer swap. There was enough interest in the swap by the other members and I volunteered to host it. The criteria was simple; the swap was open for any streamers or bucktails tied on size 12 hooks or smaller. After a few delays by the participants and myself, the swapped flies were exchanged and back in the participant's hands six months later.
- Clyde Watson
Photographs by Bob Petti
---
Woods Special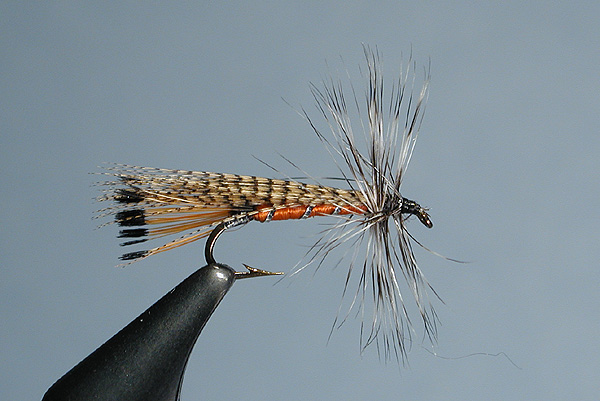 tied by Clyde Watson
Hook: Mustad 79580, #14
Tag: Flat Silver Tinsel
Tail: Golden Pheasant Crest
Body: Orange Floss
Rib: Oval Gold Tinsel
Wing: Woodduck Flank
Hackle: Grizzly
Head: Black
---
Montreal Whore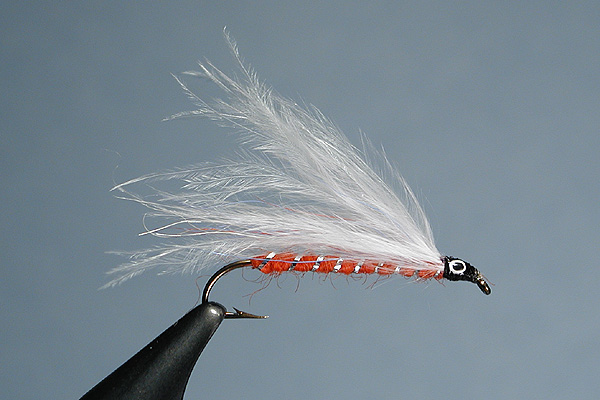 tied by Glenn Seibert
Hook: Mustad 3665A, #12
Body: Hunter's Orange Wool Yarn
Rib: Silver Mylar
Wing: Five strands of red, blue, and white bucktail,
mixed, over which is a white marabou feather. Wing
should extend no more than 1/4" past bend of
hook.
Head: Black w/ painted eyes
---
Mickey Finn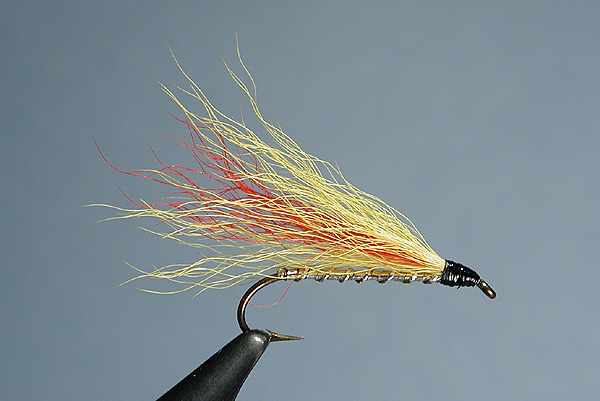 tied by Don Corey
Hook: Mustad 33960
Body: Flat Silver Tinsel
Rib: Oval Silver Tinsel
Wing: Yellow, Red, Yellow Calftail, layered
Head: Black
---
A.A. Bucktail Beauty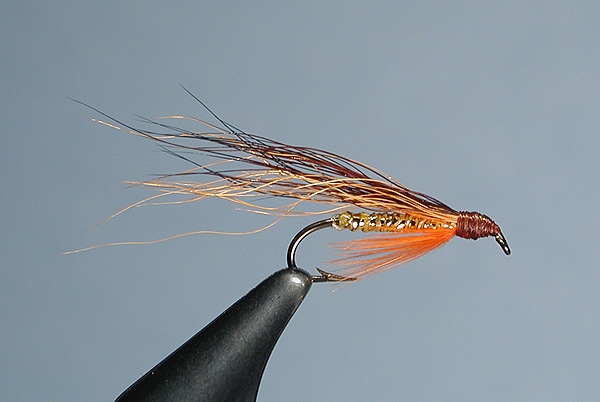 tied by Alan Grombacher
Hook: Mustad 39841, #14
Body: Gold Mylar
Wing: 50/50 mix of Orange and Brown bucktail
Underwing: Orange bucktail (omitted on smaller sizes)
Beard: Orange Hackle
Head: Brown
---
Veiled Glimmer Fly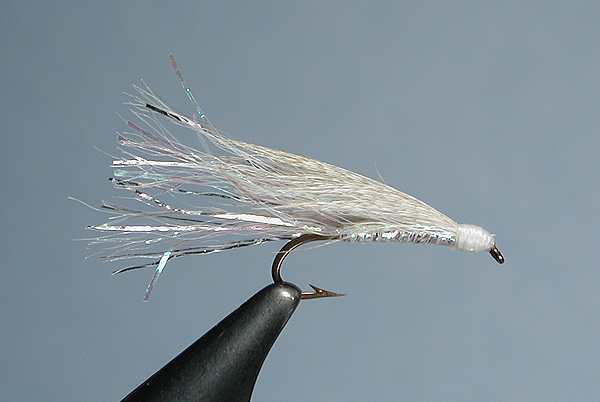 tied by Rob Nicewonger
Hook: Mustad 79580, #14
Tail, Body, and Underwing: Mix of White Antron and
Pearl Flash
Wing: Light colored mallard flank
Head: White
---
Clouser Foxee Redd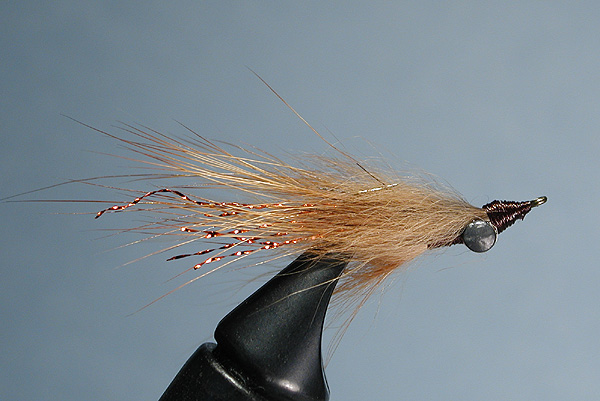 tied by Joseph D. Cornwall
Hook: TMC300, #12
Belly: Light colored Red Fox Body Fur
Wing: 6 strands of copper Flashabou topped with a
short, fuzzy wing of dark red fox tail fur. Include
guard hairs and under fur. Tie bushy and short.
Eyes: Lead dumbell eyes
---
Blue Back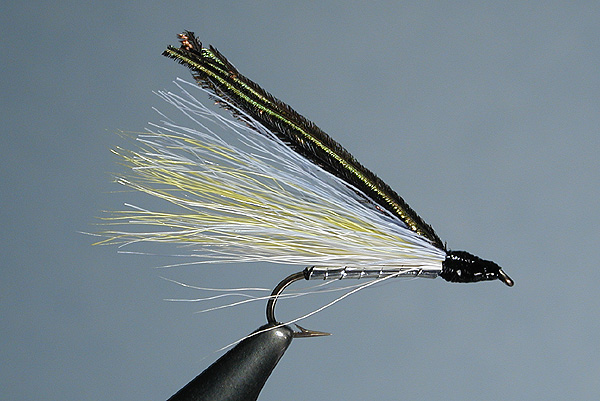 tied by Bill Stotz
Hook: Herter's Supreme 70294XL
Body: Flat Silver Tinsel
Rib: Oval Silver Tinsel
Wing: Sparse bucktail, white under yellow under blue
Topping: Peacock Herl
Head: Black
---
Milkweed Fly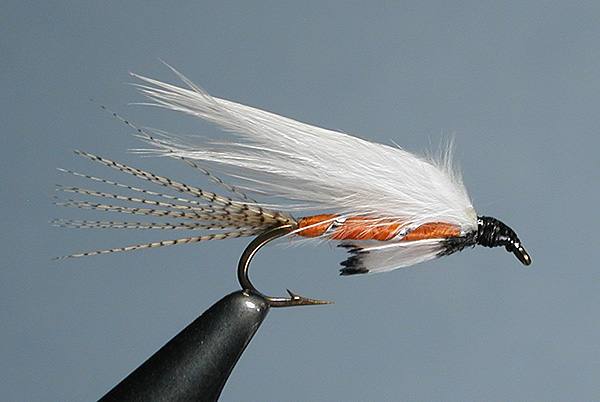 tied by Clyde Watson
Hook: Mustad 79580, #14
Tail: Lemon Woodduck
Body: Orange Floss
Rib: Flat Silver Tinsel
Throat: Barred Woodduck
Wing: Two Slips of Milkweed (*)
Head: Black
(*) White chickabou used as substitute
---
Iris #1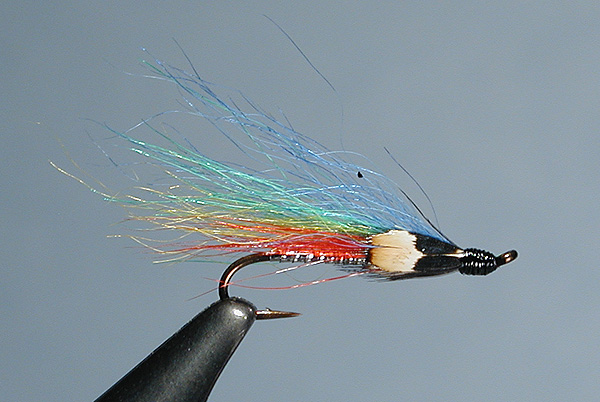 tied by Deryn LaCombe
Hook: Gaelic Supreme Mini Streamer
Body: Silver Mylar Tinsel
Rib: Silver Uni Micro Tinsel
Wing: Arctic Runner, Blue over Green over Yellow over Red
Cheek: Jungle Cock
Head: Black
Since you got this far …
… I have a small favor to ask.
Long story short
Support the Global FlyFisher through Patreon or Ko-fi. Both offer PayPal payments.
Long story longer
The Global FlyFisher has been online since the mid-90's and has been free to access for everybody since day one – and will stay free for as long as I run it.
But that doesn't mean that it's free to run.
It costs money to drive a large site like this.
See more details about what you can do to help in this blog post.