Published Jan 1. 2002 - 16 years ago
Updated or edited Jan 13. 2017
Muddler mania - Full Metal Jacket Nutria Muddler
A conehead muddler/zonker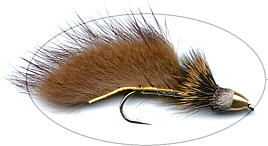 Full Metal Jacket Nutria Muddler
Materials:
| | |
| --- | --- |
| Hook | Kamasan |
| Cone | Slender brass cone |
| Thread | Tan |
| Rib | Oval silver tinsel |
| Body | Medium flat silver tinsel |
| Wing/tail | Zonker strip from mink or nutria |
| Head/collar | Natural deer hair |
Tying instructions:
Mount the brass head on the hook. It might be necesarry to press down barb for it to pass
Tie in ribbing over the hook bend
Cover the hook shank with tying thread to one third shank length behindthe hook eye
Tie in flat silver tinsel
Wind to hook bend and back
Tie down and trim
Tie in the zonker strip with hairs pointing backwards
Pull the strip and secure with 4-5 open turns of ribbing
Stack a bunch of deer hair and tie in to form a collar
Tie in more deer hair to fill space behind brass head
Whipfinish behind head and varnish
Trim deer hair to flush with brass head using a razor blade. Be careful not to cut the collar
Since you got this far …
… I have a small favor to ask.
Long story short
Support the Global FlyFisher through Patreon or Ko-fi. Both offer PayPal payments.
Long story longer
The Global FlyFisher has been online since the mid-90's and has been free to access for everybody since day one – and will stay free for as long as I run it.
But that doesn't mean that it's free to run.
It costs money to drive a large site like this.
See more details about what you can do to help in this blog post.