Simply the Best Place to go for Online Fly Fishing and Fly Tying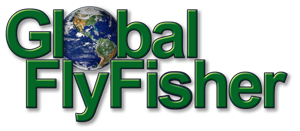 Published Dec 19. 2008
G-String Eyes
Saving the brass nuts from the ends of guitar strings yeilds some fancy eyes for flies
| | |
| --- | --- |
| | A nut from the end of a guitar string makes perfectly good eyes for flies. |
Many fly tyers are musicians too; maybe a guitarist or mandolin player. If you are one of those, you may be throwing away perfectly good fly tying material when you change a set of strings. The wire has many obvious uses for making extremely durable flies, but have you thought of using the string nut for making eyes on flies?
The Upsides: They are brass and durable. They have a notch perfectly centered down the middle of the nut. They are heavy enough to make a fly sink and yet are light enough to cast with a small line weight. And, the open hole in the middle of the nut makes a perfect silhuette of a large eye.
The Downsides: They only come in one size and you only get 6 every time you change a set of guitar strings. It takes a while to collect quite a few to tie some flies. They proportionally work best on streamer hooks sized 8 and 10.
Where do you get some for yourself? The most obvious answer is if you play guitar, save them yourself everytime you change a set of strings. If you are an active player, you'll have several dozen saved up each year for every guitar you change out. Alternative ways to get your hands on some are to ask your guitar playing friends to save them when they change out strings, or go to a guitar shop and ask them for some, as they frequently change out strings for customers.
I am sure other string instruments have similar nuts to secure to the bridge of the instrument. My banjo strings do not. My guitar strings do. Maybe larger stringed instruments have larger nuts, but I am unfamiliar with those. The rest of this article will focus on guitar string brass nuts, as they are most common and readily available.
Tying With G-String Eyes

Preparing a place to tie them in

In this example of tying a Clouser minnow, the G-string eye is not tyed on first. (Normally when tying Clousers, the dumb-bell eyes would be tyed on first.) Instead, tie the calf tail in at the 1/3-point on the hook. Cut the ends at a 45-degree angle as shown in the photo.

| | |
| --- | --- |
| | Cutting the material at a 45-degree angle as shown above helps prepare a perfect place to seat the G-String Eye perfectly on the hook shank. |

An easy way to work with the G-String Eye

G-String eyes can be maddeningly frustrating to work with. Since they are round, they have a tendancy to roll everywhere, including off your work table and off the thread as well. A simple trick is to wrap the thread 2x in the center groove of the nut prior to placing it on the hook shank. Don't try to tie the nut directly on the hook shank without doing this trick first. You'll not have much success.

Now, with the thread wrapped 2x around the center of the nut, simply slide the nut up and down the thread to place it exactly where you want it on the hook shank. The 45-degree cut in the material on the hook helps you situate the G-string eye on the top of the hook shank.

| | |
| --- | --- |
| | Two wraps of thread around the G-string eye will allow you to slide it in place to tie on the hook shank. The weight of the bobbin is all that is needed to hold it on the tying thread until you are ready to slide it in place. |

Tying the G-String Eye on the hookshank

The photo to the right illustrates how to seat the G-string eye on the hook shank. It is quite easy to tie them in, using the same techniques you would with a dumb-bell eye. Cross wrap a few times to seat the G-string eye firmly against the 45-degree-angle and on the hook shank.

| | |
| --- | --- |
| | There's nothing much easier than tying on a G-String Eye. A few criss-cross wraps to snug it against the 45-degree cut is all it takes to firmly seat the eye on the hook. Apply a few drops of tying cement or clear fingernail polish tolock the thread wraps in place. |

Clouser patterns are easy to tie with G-String Eyes.

| | |
| --- | --- |
| | G-String Clousers are a natural fit for using G-String Eyes. |