Published Jan 1. 2000 - 16 years ago
Woodduck Flank
I have to admit a particular fondness for woodduck flank. Ever since I was given my first baggie of feathers from a duck hunting friend, I was smitten. The color - the texture - the barring of the feathers.


Woodduck flank feathers are without a doubt one of the most beautiful feathers in all of nature. Their utility as a fly tying material is legendary - and deservedly so. They can be used in many different ways in a variety of fly styles. Certainly for trout fly tyers, woodduck flank feathers possess magic powers.


See some patterns utilizing Woodduck
Dry Flies Wet Flies Streamers Nymphs


I have to admit a particular fondness for woodduck flank. Ever since I was given my first baggie of feathers from a duck hunting friend, I was smitten. The color - the texture - the barring of the feathers - like so many natural fly tying materials they have a natural beauty above and beyond the world of fly tying. The fact that they are so useful as a material for trout flies makes my modest stash of feathers one of my most prized possessions. Indeed, you truly can never have too many woodduck feathers.
The terms woodduck, summer duck, and mandarin duck are oftentimes used interchangeably in fly tying texts, most often in the context of the buff colored barred flank feathers. Summer duck is a nickname that has been used for both the mandarin duck and the woodduck, there are in fact two distinct birds behind all these feathers. The woodduck, Aix sponsa, is native to North America while the mandarin duck, Aix galericulata, is native to Asia. The two are closely related biologically, the hens being almost indistinguishable in appearance, but the drakes are quite distinct on the water. However, it is the flank feathers of the drakes that are of great interest to fly tyers. They are so nearly identical that one can easily be used as a substitute for the other in all but the most strict tying recipes.
Undoubtedly the most common and well known use for woodduck flank feathers is the wings of dry flies. In fact, the upright and split woodduck flank wings on such flies as the Quill Gordon and the Hendrickson is the hallmark of Catskill style dry flies. It's not the only use for these precious feathers, however. Woodduck flank feathers are used in flies ranging from tiny emerging midge imitations to large trolling smelt streamers.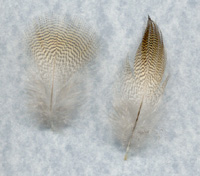 The feather on the left is broad with a flat top, which makes it a candidate for dry fly wings. The feather on the right is not appropriate for dry fly wings by itself, but it could be if matched with a similar feather. It also would make a decent wing on a flatwing style streamer like a Wood Special.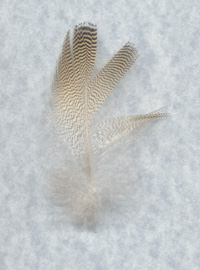 When tying a "rolled" wing of woodduck flank on a wet fly such as a Hendickson, separate a section of feathers that have even and uniform tips, such as these.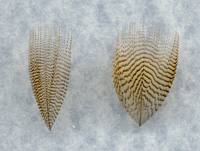 The feather on the right is fairly wide and "thumbnail" shaped, perfect for a shoulder on a Rangeley style streamer. Notice how it retains a broad shape when the base fluff has been removed. The feather on the left is far too narrow for a shoulder, but would serve nicely as the wing on a "flatwing" style streamer.
Dry Fly Wings
As we mentioned above, dry fly winging is the most common use of woodduck flank feathers. While most tyers use a single feather for winging their dry flies, some use a pair of feathers, especially on larger flies like a size 12 Quill Gordon. For dry flies that utilize a pair of feathers, elongated feathers are more suitable. For flies that will use one feather to form the split wings, the "triangle" shaped feathers are perfect, especially the ones with a very flat top edge with few broken barbules.
Wet Fly Wings
In the early days of Catskill fly fishing, it seemed that each classic dry fly had a matching wet fly. While mainly out of fashion these days, a few of these old patterns remain quite effective in our trout streams. A few of my favorites include the Light Cahill, the Dark Cahill, the Hendrickson, and the Quill Gordon. The Quill Gordon wet, in particular, is an effective fly fished during a hatch because the dun emerges from it's nymphal shuck on the stream bottom and rises to the surface of the stream as with crumpled wings and flailing legs. While the Quill Gordon wet may not be a perfect anatomical representation of this stage of the emergence, it certainly is appropriate and it has brought many early season fish to hand.
Streamer Shoulders and Wings
If you look at a classic Rangeley style New England Streamer, you'll see one of the key features that separates these streamers from all other types of baitfish imitations. That is the use of a "shoulder" feather that simulates the head and gill plate of a baitfish. While many feathers are used for this purposes, there is little doubt that the Silver Pheasant is the most common. Woodduck flank is used on quite a few very beautiful streamers - from as far back as those designed by Carrie Stevens to modern flies designed by Mike Martinek, Jr. and his contemporaries. The woodduck with it's beautiful mottling and lovely "buff" color makes for a very striking shoulder on a streamer.
Nymphs and Emergers
The mottling and coloration of woodduck flank feathers make them very appropriate for tails and legs on mayfly nymphs and emergers. Since you only need a few fibers per tail or set of legs, it's a shame to waste a full feather for these purposes. When I prepare flank feathers for dry fly wings or wet fly wings, there always seems to be some leftover feather that can either be thrown away or save for nymph tails and legs.
Etcetera
This article was slanted heavily toward the use of woodduck flank feathers in trout flies. While this is certainly their most common use, it is not the only type of flies in which they can be used. Mark Waslik's "Camp Fly" is a salmon fly in the tradition of Earnest Crosfield that uses woodduck flank as the topping. Some of the classic lake flies shown in Mary Orvis Marbury's book has wings of woodduck flank. I've also seen examples of bass baitfish flies that make use of woodduck.
Talk to me
Do you have interesting uses for woodduck flank? Do you use it in some special flies? Do have have a favorite trick or tip you'd like to share? If so, write me and I'll update this feature with your thoughts and ideas.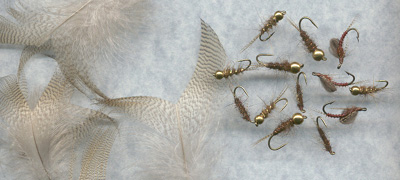 Next to the "waste" feather is a handful of flies that make use of woodduck flank for nymph an emerger tails and legs. The CFC loopwing emergers were tied for the Hendrickson hatch on the West Branch of the Delaware. Not the easiest fly to see on the water, but it's effective.