Simply the Best Place to go for Online Fly Fishing and Fly Tying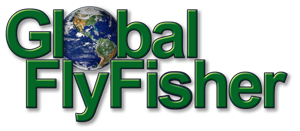 Published Nov 4. 2008 - 9 years ago
Updated or edited Dec 9. 2016
Green Machine
The Green Machine is a classic salmon fly from the Eastern part of Canada. It's fished as a wet fly in spite of being tied with deer hair and a hackle like a bomber. This article shows you step by step how to tie it and shows an alternative and easier way to create the green body.
This version is tied to fish wet. Tied in the low water style with a small body on a large hook, it will dive under the surface in spite of its deer hair body and fairly large and dense hackle. This type of fishing also origins from the Miramichi and is sometimes referred to as "wet bug" fishing. The fly will oftentimes fish right under the surface or even in the film, but by using sinking line or leader, you can bring it further down.
Some tyers opt for a small gold tag rather than the tail, which we have tied here. The tag is less visible, and might be a good option for more spooky fish.
The deer hair body makes the fly somewhat a chore to tie, and we supply an alternative here: a simple, dubbed body. Since the fly is fished wet, the deer hair will have little impact on its flotation, and you can easily exchange the time consuming deer hair body with a quick and dirty dubbed one. If you want flotation, consider using a dry fly dubbing.
Dubbed body version
Consider using dubbing for the body in stead of deer hair. The difference is difficult to see, and as long as the fly is fished wet, there is no reason to spin and trim deer hair to form the compact body.