Published Oct 14. 1995 - 22 years ago
Updated or edited Feb 17. 2016
Magnus Classic
A great Danish fly for sea trout - The classic Magnus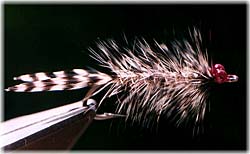 I recently became aware of the origin of one of the true classics on the Danish coast - the Magnus. It was originally tied by magnus Ting Mortensen of the island Funen here in Denmark. And it was tied slightly different from my modern version of the fly. More than 20 years ago the pattern was described as listed below.
| | |
| --- | --- |
| Hook | 4-10, straight eye streamer |
| Thread | Tan |
| Tail | Two tips of grizzly hackle feathers |
| Body | Grey hare's dubbing |
| Body hackle | Grizzly cocks hackle |
| Rib | Oval silver tinsel |
| Front hackle | Grizzly cocks hackle |
| Eyes | bead chain |
| Head | Thread and eyes varnished red |
Tie in the tips of two hackle feathers as a tail. Length is plus/minus half of hook length
Tie in ribbing material
Dub the body sparsely to one eye width behind hook eye
Tie in a cocks hackle, butt end
Wind the hackle to the back end of the hook
Wind the ribbing the opposite way to hold the hackle
Tie down the rib and cut surplus
Tie in one more hackle, tip en first
Wind hackle as a wet fly hackle and tie off
Tie in a pair of bead chain eyes or pearls on top of the hook shank
Whip finish and varnish eyes and head with red varnish
Since you got this far …
… I have a small favor to ask.
Long story short
Support the Global FlyFisher through Patreon or Ko-fi. Both offer PayPal payments.
Long story longer
The Global FlyFisher has been online since the mid-90's and has been free to access for everybody since day one – and will stay free for as long as I run it.
But that doesn't mean that it's free to run.
It costs money to drive a large site like this.
See more details about what you can do to help in this blog post.