Published Jan 1. 2001 - 17 years ago
Updated or edited Oct 14. 2016
Opossum Shrimp
An imitation well suited for inshore fishing.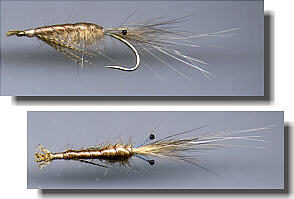 Shrimp make an important part of the sea trout's menu. Many times you can observe shrimp in the water - especially over sand bottom, where their almost translucent body only leaves a faint shadow and maybe a small trail of dust as they escape in a jerk.
This pattern tries to catch some of the characteristics of the shrimp: the light transparent body, the segmentation, the almost invisible antennae and the extremely visible black eyes.
| | |
| --- | --- |
| Hook | 2-4 curved nymph/emerger hook like Tiemco TRM200 |
| Thread | Tan |
| Weight | Bottle lead |
| Antennae | Small tuft of light opossum hair with long guard hairs |
| Shell | Shell back or latex, light brown |
| Eyes | Burned monofilament |
| Rib | Copper wire or monofilament |
| Body | Ball of black dubbing under natural opossum |
| Legs | Barred wood duck |
| Tail | Barred wood duck |
| 'Head' | Tying thread |
Cut a narrow strip of bottle lead
Cover the middle of the hook shank with the lead
Tie in the thread in front of the lead
Tie down the lead with open, but tight turns of thread
Tie in a monofilament eye on each side of the hook shank over the barb
Tie in the ribbing under the eyes pointing toward the hook bend
Bend each eye perpendicular to the hook shank
Varnish the lead, bas of eyes and bas of ribbing
Tie in a tuft of light opossum, guard hairs 1.5-2 times hook length, sticking out between the eyes
Leave the butts of opossum and cover with tying thread
Taper a narrow strip of latex and tie in over the eyes pointing toward the hook bend
Dub a small ball of black dubbing close to the base of the eyes
Cover the whole body and the black ball with a layer of opossum dubbing. The dubbing needs to be light and transparent
Leave an eye width or two uncovered behind the hook eye
Pull the shell over the body and tie down
Wind the ribbing over the body and shell and tie down under the hook shank
Tie in a small bunch of wood duck fibers as a false hackle under the hook shank, almost reaching the hook point
Use the butts of the wood duck to make a short, fanned tail fin over the hook eye
Finish the fly between the tail fin and the shell with a whip finish and varnish
Since you got this far …
… I have a small favor to ask.
Long story short
Support the Global FlyFisher through Patreon or Ko-fi. Both offer PayPal payments.
Long story longer
The Global FlyFisher has been online since the mid-90's and has been free to access for everybody since day one – and will stay free for as long as I run it.
But that doesn't mean that it's free to run.
It costs money to drive a large site like this.
See more details about what you can do to help in this blog post.