Simply the Best Place to go for Online Fly Fishing and Fly Tying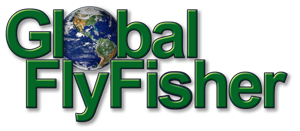 Published Dec 12. 1997
International Fly Tyers Symposium 1997
The New Jersey area is not the worst place to be in November. This is the story about a lot of fishing and fly tying done in that area in the fall of 1997.




It's a trivial sight,

but man...
it's nice!









The New Jersey area is not the worst place to be in November. This is the story about a lot of fishing and fly tying done in that area in the fall of 1997.

Some people might find it better in August or September - mostly because the fishing is better then. But I prefer November for several reasons.


First of all I'm a cold weather guy. Yes, I think I have come to the conclusion that I actually prefer fishing under chilly circumstances rather than on hot sunny days. In the summer I never fish in daylight and I enjoy fishing during the winter.

The second reason for prefering November is the International Fly Tiers Symposium 1997 which takes place... you guessed it; in November.

The IFTS97 is a great 'little' show. It's not the largest neither in number of tyers and booths, nor in number of spectators. But there's ambience, friends to meet and some great tying to be seen. This year was my second, and I intend to return if possible.




I arrived in good time before the show which was in the weekend of the 15th and 16th. I had a whole week off, so I intended to take some time to shop, fish, wine&dine and whatever.

| | |
| --- | --- |
| Sheryl Clemens - a perfect host in spite of her temporary handicap. | |
Like last year I had the great pleasure of staying with friend Larry Clemens and his wife Sheryl together with my Czech friend Jan Siman. Our hosts are fine people, and Larry's cooking and fly tying basement is worth travelling for.

Larry's wife Sheryl was taken seriously ill last year just after the show, and was still recovering. But even though she was still not totally able to walk, they were no less than perfect hosts. Larry made sure that we were shutteled to and from some extensive shopping in the area and the different tying arrangements.


The Big Flatbrook - a beautiful stream in upper N.J.


Two days before the show, we went fishing on a upper N.J. stream called the Big Flatbrook. This is a beautiful small stream with some very nice scenery. It runs through a forest and has both some fairly fast water with pockets and some slower pools.
We were six: Our excellent guide Jeff Kurman, Co and Marijke Roos, Jan Siman, Sepp Fuchs, Theo Bakelaar and myself. We got separated right from the start and I fished my way downstream through a very nice stretch of forest. As I was fishing a 9' rod I had all too much rod to make proper casts under the overhanging trees. Theo's short and very beautiful cane rod was much better.
I did manage to lay out some roll casts, and landed two beautiful small trout on the forest stretch. But it wasn't until I hit a slower pool above a bridge that things started happening. Here I saw fish rising, and I changed to a size 16 Red Tag. This got a few fish moving, and I had a swell time. The water was cold, but the weather was nice and time passed quickly. So quickly that I forgot to return to the car in time, and was abruptly disturbed by Sepp and Theo calling from the bridge, ready to ride back for our tying session at Ramsey's Outdoors.


Larry Clemens (my host), Ted Patlen and Sepp Fuchs at Ramsey's


Later that evening we had a tying session at the shop Ramsey's Outdoors in Paramus N.J. This was also an occasion to meet more of the other Europeans.
Here I had the pleasure of rejoining Bas Verschoor of The Netherlands and Jan Idar Londal of Norway, but also meeting for the first time Marijke and Co Roos, both from Netherlands. We also saw Billy Tomiello, Joe Keegan and Ted Patlen who all work in the store.
Hans Weilenmann was supposed to join us there, but unfortunately he and Glenn Peckel, who was supposed to pick him up, missed each other and he was stranded in the airport for a while.
| | |
| --- | --- |
| | Tying at Ramsey's - Left: Sepp Fuchs, Bill Tomiello, head of Ramsey's Fishing Dept., and Jan Idar Londal. Above: Jan Idar Londal, Marijke Roos and Bas Verschoor |
Unfortunately the audience at Ramsey's was limited to say the least. But good tyers do not need an audience to have a good time, and while Jan Siman's video on dubbing brushes was narrated by Bas Verschoor in the background we tied, talked and had a good time.











Above: Just before we left this stream we saw fish rising.

Left: A small emerald, hidden between two highways... wild fish only.





Our perfect guide Jeff took us fishing once more. This day we fished two smaller local streams; one located in seclusion between two highways and one more accessible. Both were very nice, but low temperatures kept the fish down. None of us caught anything, but we certainly had a very nice time.