Published Dec 31. 2002 - 15 years ago
Updated or edited Sep 8. 2016
Garret Booth
I grew up in Upstate New York. My father taught me the basics of fly fishing and tying. He also taught that the sport can be your passion, livelihood, therapy, and hobby. From there I took to my own style and began to tie feverishly. I devote my time to my wife, our dogs, and our passion which is tying and fishing.
I consider my home waters the New Hampshire and northern Massachusetts coast where I pursue striped bass, bluefish, bonito and false albacore until the dead of winter. I tie commercially and fish constantly.
The sport of fly fishing and the people who live it deserve to know new methods and patterns. Drop me a note to ask or offer.
Garret M. Booth
GFF Contributions authored by Garret:
The Merrimack River
Garret can be contacted at ALBIENUT@prodigy.net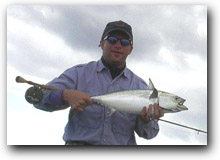 A Rhode Island Albie
Since you got this far …
… I have a small favor to ask.
Long story short
Support the Global FlyFisher through Patreon or Ko-fi. Both offer PayPal payments.
Long story longer
The Global FlyFisher has been online since the mid-90's and has been free to access for everybody since day one – and will stay free for as long as I run it.
But that doesn't mean that it's free to run.
It costs money to drive a large site like this.
See more details about what you can do to help in this blog post.