Published Jan 1. 2001 - 17 years ago
Updated or edited Dec 4. 2015
GFF partner Martin Joergensen, Denmark
One of the founders of GFF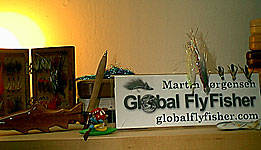 I am the main contributor, daily editor and developer of this site The Global FlyFisher. I'm certainly not the only person behind the site. The list of contributors is long.
I live in Copenhagen, Denmark (That's København, Danmark in Danish).

A few facts about me:
- I'm an avid fly tyer and fly fisher even though my activity has been somewhat impaled by a chronical disease.
- I have written articles in Danish and International fishing and fly tying magazines
- I have contributed to fly tying and fly fishing books in both Danish and English
- I have tied at shows in Denmark, Sweden, The Netherlands and the US
- I have spoken on many occasions in clubs both home and abroad




You are of course welcome with any kind of comments or suggestions, which can be sent to me by regular e-mail (martin@globalflyfisher.com).

Some GFF stuff that Martin was involved in:
Martin's blog entries:


Since you got this far …
… I have a small favor to ask.
Long story short
Support the Global FlyFisher through Patreon or Ko-fi. Both offer PayPal payments.
Long story longer
The Global FlyFisher has been online since the mid-90's and has been free to access for everybody since day one – and will stay free for as long as I run it.
But that doesn't mean that it's free to run.
It costs money to drive a large site like this.
See more details about what you can do to help in this blog post.