Published Jan 1. 2001 - 16 years ago
Updated or edited Nov 16. 2016
Hans Weilenmann
We do have friends in low places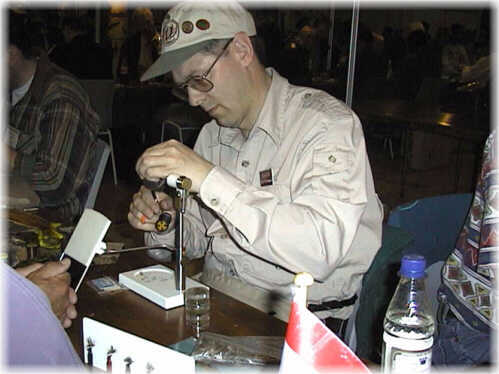 Hans Weilenmann at the Danish Fly Festival 1997
Hans Weilenmann is a well known Dutch fly fisherman and fly tyer on the international arena. His name keeps on popping up in all kinds of connections - including many shows all over Europe and the U.S.A.
Through his work Hans was an early adopter of the Internet and the web in connection with his fishing and tying and he has been very active in the fly fishing related newsgroups and especially the mailing lists FF@, Flytie and Eur-Flyfish. He is also a frequent visitor in the Virtual Flyshop chat room, where he appears with the handle Flytier.
One of Hans' most productive and well known patterns - the CDC&Elk - has been featured here a long time, but now he has added a feature story from hook maker Partridge made after a visit to Redditch.
Hans can be reached via his web site Flytier's Page