Simply the Best Place to go for Online Fly Fishing and Fly Tying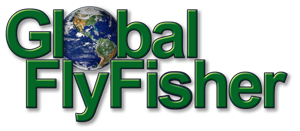 Published Feb 18. 2014 - 4 years ago
Updated or edited Sep 11. 2015
Great Lakes Steelhead Interceptor
MATERIALS LIST IS BELOW!
This is my go-to pattern for Steelhead on Great Lakes tributaries. This pattern, in this colour is responsible for most of the fish I've landed in the 2012/2013 season. I based this pattern off of Greg Senyo's JawBreaker and you'll notice that most of my flies are based off Senyo's designs (He's Amazing!).
I fish this fly with a stinger hook that hangs just past the tail.
This pattern and others can be found at
www.MissionFishing.net
Grocery List:
Veevus 6/0 Thread
Heritage Angling Products Tube (1.8mm mated with 3.0mm)
FutureFly American Opossum (Black)
Hareline Cross Cut Rabbit Strip (Black)
Flashabou Mirage (Copper/Opal)
Flashabou Holographic (Black)
Marabou feather
10mm Trout Bead
Required materials can be found at
www.flymart.ca
.
Awesome soundtrack by Phantogram
http://www.phantogram.com/
Thanks for watching!