Published Feb 20. 2005 - 13 years ago
Updated or edited Apr 6. 2017
Beginner's Buzzer
A Buzzer is basically an imitation of the pupa of a midge. The buzzers are best known from British stillwater fishing, but are actually very widespread and common all over the world. Learn how to tie a simple buzzer and how to fish it.
A Buzzer is basically an imitation of the pupa of a midge or chironomid - in other words a non-biting "mosquito" in the state between a larva and the adult, flying insect.
Most people will already know midges in two forms: the red blood worm found in many lake sediments, which are the midge larvae, and the big swarms of "dancing" midges, which are the insects mating in mid-air in large numbers.
The midges are interesting to imitate for several reasons:
They are very abundant, particularly in stillwaters with hundreds of species present in both Europe and the US
They hatch almost year round
They are high on the menu for stillwater trout
Bacause of this, buzzers are particularly interesting when fishing stillwaters, and most of the fishing methods developed for these patterns are specifically aimed at lake and pond fishing.
The sparsest of patterns
One thing that characterizes the buzzer patterns is their sparseness.
The skinny patterns are motivated by several factors. The animals that they imitate are small and slender, and there is often a wish for a fly that moves and sinks freely in the water. Lack of body volume is one way of obtaining this.
This incarnation of the buzzer is a fairly simple version using easily available materials. This pattern also avoids using epoxy or other resins, which is common in many modern buzzer patterns. I found that this buzzer was a good entry point to the world of buzzers - one of the reasons for the name Beginner's Buzzer.
The pattern is very generic, and has not been developed by me. My inspiration stems from flies tied by my good friend the Welsh fly tyer and angler Paul Slaney, but I'm almost positive that he wouldn't want to take credit for the fly either.
Larger than life
Even though midges may be likened to mosquitoes in many ways, their pupae are significantly larger than mosquito pupae. The average length is 8-15mm (1/4-1/2 inch) and the buzzers are therefore tied in rather large sizes. The typical fly size will be 12-14, but larger flies in the 10-8 range are seen too.
But it is not only the imitative powers of the fly that has brought about its succes. The fact that some anglers use a plain red, undressed hook and an imitation can underline that fact. No, the concept of buzzers is just as much the way of fishing them as it is the character of the patterns themselves.
Dead drift
The primary way of fishing buzzers is by dead drifting. Since we are fishing in still water there is little water movement to help the fly. If the fly is retrieved, it is often done slowly, mainly with a figure-of-eight-retrieve.
Many buzzer fishing methods will hang the fly just below the surface, and movements in the line will make it rise slightly towards the surface as if the pupa was about to ascend and hatch. Flies are also fished sinking as shown below.
Since the flies in the Beginner's Buzzer style will commonly be fished on a floating line, the wind will have a significant influence on the movement of the fly. The wind is actually used very deliberately in some buzzer fishing methods as described in this article about the Diawl Bach and fishing flies in teams..
Many methods
British stillwater fishing has long traditions, and over the years a wealth of methods have been developed. A common way of fishing buzzers is in a team of two, three or even four flies. The mainstay buzzer setup these days is a team of three buzzers with varying characteristics, particularly regarding sink rate:
a top fly or top dropper - a light buzzer, typically a fluffy one or one tied on a light hook
a dropper - a buzzer such as the Beginner's Buzzer
a point fly - typically a heavy buzzer, epoxied to sink fast or tied on a heavy hook
Roughly said you want to fish varying depths. The point fly acts as an anchor pulling and holding the rig down. The other flies will fish above that.


Another well known way of rigging a team is a washline, where the point fly floats and the two droppers fish. The dropper can both be buzzers or a buzzer and a nymph.


In Wales it's called a bung, but a strike indicator is probably easier to understand for the rest of us. Fish the buzzer like you would any nymph under an indicator or a large dry fly. The method is very good in calm conditions. Experiment with depths until you start getting strikes.


The last method is rather special utilizing a greased leader. Grease up a very long, level leader - about 25 feet or 6 metres. Tie on a heavy buzzer and cast it out as best you can. Keep your eyes glued to the small dimple that forms where the leader is drawn through the surface as the fly sinks. Strike the instant you see it dip.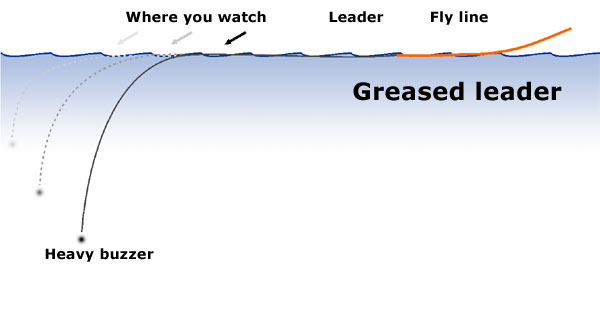 More on how to tie the leaders and how to fish a multi fly rigs like this in the article about the Diawl Bach.
The reason for the name of this fly is not as much that it aims at beginning stillwater angler or fly tyer, as it is based on the fact that I am still a novice on these patterns and the fishing methods.
Can you say sparse?
During a stay with Paul in his house in Wales we started extrapolating the idea of sparsely dressed buzzers, and honestly did go crazy a wee bit. After having tied a bunch of average buzzers along the lines shown in the pattern description below, we started tying thinner and thinner flies, in the end winding up with something very close to a bare hook. It might seem like useless experimenting, but these flies could easily find their day in a buzzer fisherman's life.
Tying steps
Since you got this far …
… I have a small favor to ask.
Long story short
Support the Global FlyFisher through Patreon or Ko-fi. Both offer PayPal payments.
Long story longer
The Global FlyFisher has been online since the mid-90's and has been free to access for everybody since day one – and will stay free for as long as I run it.
But that doesn't mean that it's free to run.
It costs money to drive a large site like this.
See more details about what you can do to help in this blog post.