Simply the Best Place to go for Online Fly Fishing and Fly Tying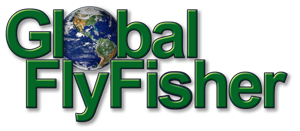 Published Jan 11. 2016 - 2 years ago
Tungsten Surveyor
Tungsten Surveyor on a jig hook - Fast, Easy, Most Productive Nymph EVER!
For the past five years or so this Lance Egan creation has been one of the top producing nymph in my arsenal. For the past year we have been fishing the Tungsten Surveyor on a Syndicate jig hook which has been dynamite! When it comes to easy, quick to tie, and extremely effective flies the Surveyor nymph is on top of that list.
Egan's Surveyor is extremely effective Euro Nymphing, Czech Nymphing, and even indicator nymphing. The additional weight from the tungsten bead helps this pattern get down to the fish quickly and helps it stay low in the feeding zone longer during each drift. There are many benefits of fishing jig nymphs including better hook ups primarily in the top of the mouth, better holding power once a fish is hooked, and fewer snags since it rides hook point up which results in fewer lost flies.
For a complete recipe of materials and full fly tying tutorial of the Surveyor fly pattern visit http://flytying123.com/
Syndicate jig hooks and slotted tungsten beads available at http://flytying123.com/shop/shop/
Learn how to tie flies and other awesome fly fishing topics at http://flytying123.com
For more fly tying videos and fly tying instructions subscribe and follow my youtube channel
http://www.youtube.com/user/flytying123?feature=mhee
If you are on facebook feel free to follow me there as well
https://www.facebook.com/pages/Fly-Tying-123/152360374807050?fref=ts
Don't forget Instagram
http://instagram.com/gilbertrowley
Music: Royalty free music by http://www.pond5.com/ and http://www.premiumbeat.com/