Published Feb 16. 2012 - 11 years ago
Updated or edited Oct 27. 2021
GFF is on Facebook!
We have joined the half billion users on Facebook, and you can now become our Facebook-friend and subscribe to our updates from your Facebook-profile.


I didn't have a personal Facebook account for a long time. I realize that a lot of information exchange and communication takes place on Facebook, but honestly: I have seen so much noise too, and combined with all the other channels that any modern Internet user has to plug into, it does generate an almost endless stream of information. Add up Twitter, LinkedIn, Google+, Skype, good old email not to mention all the messages that come in through GFF's comments, the forum and whatnot. I have more than my mouth full.

FB here we come

But as I said: Facebook is the place that people keep contact and get a lot of their information, and we of course want to service those GFF readers that are on Facebook.

So now there's a GFF page on Facebook, and you can like us there. Like us, post comments, share our posts and make sure that you and your fly fishing friends on Facebook get the news when things happen on GFF by recommending us, sharing our posts and so on.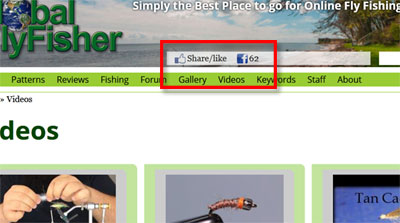 I also created a person on Facebook called Martin Globalflyfisher. I wasn't able to find the way to becoming a non-person at first, so right now I'm on FB as a kind of hybrid between myself and GFF - which in many ways is what GFF is anyway...
So you can become my Facebook friend, which will give you a bit more from my everyday life and maybe even a few non-flyfishing things.

The more official way to connect with GFF is by liking the Global FlyFisher page. That's fly fishing and fly tying only.

You can also access FB directly from our pages. We have had a Post on Facebook link before, but we now have a Share/like link on almost all pages. Find it in the heading section over each page. Click that to like, share or comment a GFF page on Facebook. If you're logged into Facebook, it will work directly. If not, you will be asked to log in.


More content from the front page