Published May 30. 2007 - 14 years ago
Updated or edited Oct 8. 2020
Burning Man
A very strange contraption left my vice the other day. I have great expectations.
This fly eventually appeared in its own article here.
It's been a while since I have fished tube flies with any regularity in my daily fishing on the Danish coast, and after having recieved Mark Mandell's and Bob Kenly's new tube fly book, I felt compelled to take up some tube fly tying again.
At the same time I had been talking with a good fishing friend about fishing floating flies and poppers for sea run browns, and this got me venturing the foam and rubber leg way.
As many of you know, I'm a muddler man. I have always loved to tie and fish muddlers. But at the same time I'm also very pragmatic, and have more than once exchanged the complex muddlers with very simple foam flies. The Morrisfoam Diver and the Plipper come to mind.
So rather than tying up a bunch of stacked deer hair flies, I dug out some orange foam and some brightly orange rubber legs that I had just bought for an other purpose. Armed with these materials and some thin tubing that Bob Kenly had once sent me, I was ready to whip out a floating fly for sea trout.
As you might be able to see from the picture, it's rather similar to the Plipper. Simpler, but made on the same basic concept. I added the rubber legs mostly because I had them, but once in the water, the legs really showed what they could do. They do add a lot of life to the fly.
I fished it on my last outing, and even though I hooked no fish on it, I had quite a few takes - mostly from small and stupid trout that could hardly gape over the voluminous fly. The garfish liked it too, but they are hard to hook with any fly. But I expect it to be able to entice some large trout once the conditions are there. I'm almost sure the fly would lure bass and panfish too...
Once I have built some experience with the fly I will probably post the pattern on the site.
And the name? Well, obviously named after the strange and fascinating Burning Man Festival symbol. I remembered reading about this festival, and remembered the large statue of a man, which is burned when the festival ends. This statue has much the same profile as my fly. And even more so does the new symbol that the Burning Man Festival uses.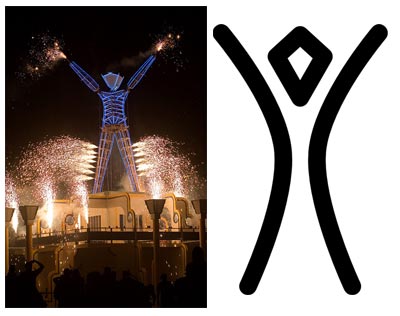 I lifted the above image from Gabe Kirschheimer's web site, which has lots of images from the festival.
More content from the front page