Published Sep 20. 2004 - 18 years ago
Updated or edited May 18. 2016
New Stuff
It all started when I had to toss my bottle of Pharamcist's Formula in the trash. Scanning the net for a suitable replacement, I found a husband and wife team that are producing a bunch of interesting products for fly fishers and tyers.
Black Duck Flyfishing Products
A husband and wife team up to create new products for fly fishers and fly tyers.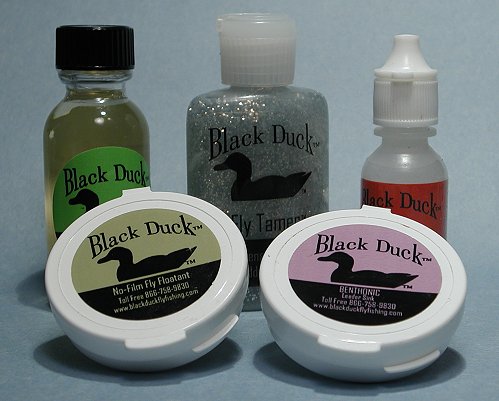 One morning this past winter, I had a sad thing happen in my fly tying room. I had to toss out my bottle of Pharmacist's Formula head cement. That trusty bottle had been with me from the beginning, purchased from a mail order shop that has long since gone out of business. It was my favorite of all cements, thin enough to penetrate thread and materials, but thick enough to form a nice drop on the end of a bodkin that didn't drip off halfway to the fly. Best of all, unlike other cements, it never dried up in the bottle. It was my favorite cement, by a wide margin.
I had other cements. Like most fly tyers, I seem to accumulate "stuff" like a pack rat - spools of floss I'll never use, thousands and thousands of hooks of a seeming endless variety, boxes and boxes of furs and feathers and trinkets, and of course a couple dozen bottles of various cements, polishes, adhesives, and other sundry things. Among all those - not a decent head cement in the lot for little trout flies. Lots of bottles of stuff long since dried up, or hopelessly glued shut. In a fit of frustration, I tossed most of it in the trash, including my used up bottle of Pharmacist's Formula.
I was a little panic stricken when I hit the catalogs and couldn't find a single source for my favorite cement. What to do? Obvious. Hit the 'net. Someone has to have a bottle or two that they are willing to part with. If it's anywhere, you can find it on the 'net.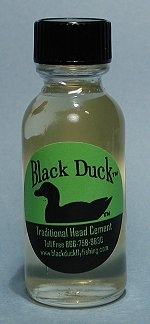 Black Duck's Traditional Head Cement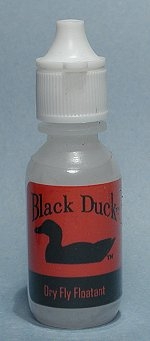 Liquid Dry Fly Floatant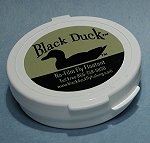 No-Film Fly Floatant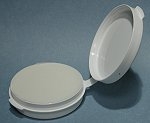 The no-film floatant is hard and waxy, like an auto paste wax.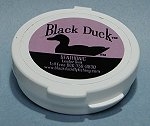 Benthonic Leader Sink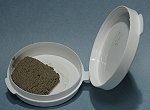 The leader sink has a texture sort of like wet concrete.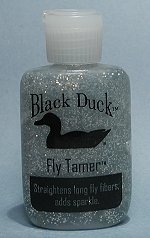 Fly Tamer
A google search revealed that Pharamcist's Formula hasn't been made for quite some time, but I did trip across a review of a product that was designed to be a replacement. It seems another fan of Pharmacist's Formula got frustrated like I did and, being smarter than me, contacted some science minded folks who might be able to replicate the stuff. In their own words:
When the company that manufactured Pharmacist Formula head cement went out of business about 10 years ago, many fly tiers thought they had lost the best head cement on the market forever. In mid-2001, Richard Parks, who owns the Parks Fly Shop in Gardiner, Montana, called us and asked us if we could re-introduced a similar formula to replace the old Pharmacist Formula head cement. We said that we might be able to if we had a sample to examine (those who have read the Black Duck Story know that we are a husband and wife team of a toxicologist and chemical engineer). Richard then reluctantly sent us the last few drops that he had, with the hope that we would be able to come close to replicating it. We examined the sample and developed 2 formulas that we thought might be close.
Hey - I liked the sounds of that. I contacted the company to verify that the cement was still being produced, and, upon hearing that it was, immediately ordered two bottles. I also mentioned our little website here, andmentioned that I might write up a review. One of the owners, Robert Troup, sent along some samples of their other products, and I've been using them exclusively for my fishing this year. Before the review,
a little bit about Black Duck Fly Fishing. Again, in their own words:
It all began on a fishing trip in the fall of 2000, with a brainstorm for Robert Troup, an environmental research toxicologist, as he was thigh deep in Colorado's Cache la Poudre river. While fishing dry flies in a hatch of little blue winged olives, he decided that between he and his wife, they should be able to formulate and manufacture products as good or better than what was currently available on the market, in an environmentally sound, low impact fashion (Fly fishing is not called the contemplative sport for nothing!). He shared his thoughts with his wife, Pamela, who happens to be a chemical engineer, and they decided to give it a try.
Being a small, strapped for cash start-up and raising a family of future fly fishermen, they started in the cramped basement and garage of their Colorado, home.
I don't know about you - but that sounds like a company I feel good about supporting. Not only do they produce new products, they have a few that are developed as replacements for products no longer on the market - such as my beloved Pharmacist's Formula. (Gee - I wonder if there would be a market for a modern day Overton's Wonder Wax. :)
Traditional Head Cement
When I first unwrapped the bottles of cement I ordered, a smile spread across my face as I got a wiff of that unmistakable Pharmacist's Formula scent. It turns out that this stuff behaves exactly as I would expect. It is thin and penetrates very well - making it particular effective for small flies and applications where you want the cement absorbed by the materials - such as where the hackle is wound around a parachute post, or where the wing is tied down on a hairwing caddis. I can't speak for it's longevity, as I've only been using it for a couple months, but I can say this. I've been using it steady and it seems to have lost none of it's "thinness" since the day I bought it.
Black Duck Fly Floatant
A classic liquid fly floatant, I've found Black Duck's product to work as well or better than any competing product. The bottle is "standard" in that it fits most floatant holders. While I have not used it in freezing weather yet, I can say it held up well in hot weather. It did not "go liquid" and leak all over my vest. I gives off an "oil slick" like all liquid floatants.
No-Film Fly Floatant
I've never seen a floatant like this. When I saw the container, I expected something along the lines of Cortland's "Dab", which has the consistency is Vaseline. Black Duck's "No Film" floatant more closely resembles a little cake of slick wax - almost like a really hard paste furniture or car wax. You rub a little
on your fingers, and rub it into your fly, and you're in business. As advertise, you do not get the classic oil slick associated with liquid floatants.
If any of you are familiar with Ralph Cutter's ideas regarding subsurface flies, you'll know he sometimes dresses wet flies and nymphs with some sort of waterproofing agent so the flies with trap air bubbles as they break through the surface film. The No-Film Fly Floatant serves the needs when you don't have the opportunity to pre-treat your flies with a liquid, which requires a lengthy drying time.
Benthonic Leader
Sink If you have ever listened to Oliver Edwards on the subject of nymphing or fishing wet flies, you'll know doubt have heard him mention one of his favorite tackle accessories, a little tub of "fuller's earth mixed with fairy liquid and glycerin". Being the curious sort, I wanted to try that myself, but when I go to the grocery store and ask for "fairy liquid", I got some funny looks. (just kidding) What really turned me off was the idea of buying enough fuller's earth and other stuff to make a small mountain of leader sink, when all I really needed was just a little bit.
I don't know if Robert uses Fairy Liquid in his leader sink, but I do know that it does degrease a leader so that it breaks the surface film without hesitation. When fishing little wet flies or flymphs, which can sometimes get caught in the surface film and need a little tug to make them pop under, it's helpful to have a leader that fully breaks through the surface. Oliver also uses the leader sink when he is nymph fishing, whether Czech nymph or classic upstream nymphing. Since most of my flies are heavy, and I am not shy about adding a shot here or there, I haven't found that entirely useful. I reserve the leader sink for the times I want to fish a soft hackle on a gentle swing. In that instance, it comes in very handy.
Fly Tamer
Earlier this year, I was fishing a lake in upstate New York that has a good population of bass. We were drifting along the shoreline, casting to the structure of downed trees and stumps. My friends were using lures on spin gear, but I was casting a fly. A chartreuse over white clouser minnow, to be exact.
Remembering that I packed along some of Black Duck's "Fly Tamer" for just this purpose, I thought I'd give it a try. No kidding - on the 3rd cast I hooked up with my biggest bass of the weekend. Any bass that makes a deep bend in an 8wt RPL is a nice fish. Coincidence? Possibly. Give me a couple more years for a thorough testing, but for now I'm convinced.
The theory behind this stuff is twofold. If you have big streamers, such as a mega diver, you can apply this stuff to the wing/tail to make it a little easier to store. It's sort of like a hair gel, without the pretty smell. Fear not, however, as when it hits the water, the fly will resume it's normal appearance and not lose any mobility. The other reason to use Fly Tamer is for the "injured minnow" affect. The stuff has silver glitter mixed in that gets slowly release as the fly is fish, sort of like a trail of scales that are released from an injured baitfish.
To learn more about these and other products, visit their website, http://www.blackduckflyfishing.com/