Published Oct 2. 2020 - 2 years ago
Updated or edited Oct 2. 2020
GFF Newsletter: Autumn Fly | Trophy rainbows in Slovakia | Betters' Flies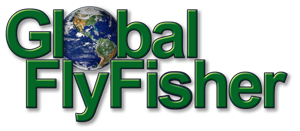 Simply the Best Place to go for Online Fly Fishing and Fly Tying
Oct 2. 2020
It's been a while since I last wrote a newsletter. Actually, I haven't written one since May this year, just when the world seriously began realizing that this pandemic thing was actually the real deal.
Well, this is not about disease, but about fly-fishing and fly-tying, and enough other people write about misery, so I'll stick to something a little more uplifting.
It's been a busy summer for me. I actually started in a steady job for the first time in decades after having been self-employed for many, many years. The job has a character, which enables me to still work from home and keep my other projects running - both my existing clients, new clients... and the Global FlyFisher of course!
The site is doing fine, and sees some new content regularly as well as new videos very often. I do have a few articles in the pipeline, like more on tying durable flies and several great patterns, but I have to admit that producing good articles does take time, and the scripts aren't flowing in in drogues.
So as all other newsletters, this also contains a call out for content: if you have something that you want to share with the world, let me know and we can work on it. Patterns, fishing trips, pictures, tips&tricks, DIY - whatever might be interesting to your fellow fishers and tyers.
One thing I need to do is to thank all those who have donated money to the site. THANKS! You know who you are, and I hope you know that your donations are very much appreciated, and help me well in covering the expenses for running the site. Should you not be one of the generous donors, this is where you go to help.
One pretty interesting thing is going on right now. I am currently working on integrating the content of a very large and respected niche site with flies and patterns, which will eventually become a part of GFF. The content from this site will greatly add to the Global FlyFisher, and even though there's quite a bit of work still left in the import, it's getting closer. I expect to have the whole thing ready before the end of October, and will let everybody know when it happens.
Until then you can enjoy the usual content, and peruse the latest articles linked below. And as I said: feel free to shoot your material off to me. I'm very open to new and exiting content.
Stay safe. Tie a fly. Go fishing.
Martin
Articles

Videos

Blog

Simply the Best Place to go for Online Fly Fishing and Fly Tying

Editor

Martin Joergensen
Feel free to contact me regarding this newsletter.

Newsletter